For the past month or so, as mentioned previously, we're dealing with an ongoing power issue in Northern California. PG&E again has implemented their "PSPS" (Public Safety Power Shutoff) protocol for my area. Which means anytime there are high winds predicted by the weather service, our power is shut off.
It's not that cut-and-dry. They (PG&E) claim there are more factors than just high winds:
The company carefully reviews a combination of many criteria before taking steps to shut off power for safety, including but not limited to:

Low humidity levels, generally 20 percent and below.
Forecasted sustained winds generally above 25 mph and wind gusts in excess of approximately 45 mph, depending on location and site-specific conditions such as temperature, terrain, vegetation and local climate.
Moisture content: Condition of dry fuel on the ground and live vegetation (dead and live fuel moistures).
On-the-ground, real-time observations from PG&E's Wildfire Safety Operations Center and field crews.
A Red Flag Warning declared by the National Weather Service.
Information from the NIFC and National Weather Service, including high risk days and locations considered "critical burn environments."
Source: Forecasts Indicate Potential for Historic Wind Event This Weekend; About 850,000 Customers Notified They May Be Impacted Beginning Saturday Evening
I'm not too impressed with this protocol. It impacts my productivity pretty harshly since I work from home. But these conditions are also ideal for solar, so I've invested in a few pieces of tech to mitigate the impact. For example, I've just received one of the key pieces of my kit, a Suaoki S200 Power Station: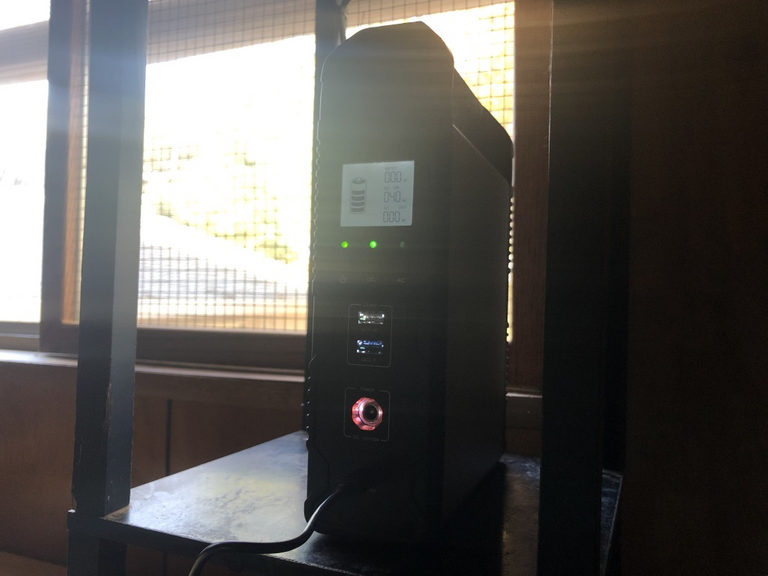 This will allow me to run my MacBook Pro for a full day, at full power. I can even charge it in the car. But the goal will be to add a couple solar panels so I can charge it in 3.5 hours. I also got a USB 3.0 port for my golf cart, so I can utilize the 1000 watts that normally just sits in the garage.
I've been able to get on the internet in two ways. Either by accessing it from my mobile hotspot or by ADSL. The ADSL is powered on my end by a dedicated UPS that can maintain the connection for a day. I can even recharge the UPS using my S200, if the power is out that long.
This S200 is not just solar ready. It has an MPPT solar circuit, which is the current technology in these types of controllers. Though, at the moment I'm using the car charger.
In fact, that's not a bad use case: a) charge my macbook from the S200; b) once fully charged, hook the S200 up to the car charger; c) wife goes on errands; d) returns with S200 charged (slightly).
In this scenario, the S200 will be connected trough the "cigarette lighter" port. But it will only charge when the engine is running, so it won't kill the car battery. That controller is pretty smart.
I've held off ordering the actual solar panels for the moment because supposedly we're at the end of this PSPS protocol for the season. There's rain in the forecast. There are lower temperatures. If this really is the end, I have a year to get setup for next time. And even if it's not, the S200 can get me through 24 hour outages on its own, if I'm careful.
The PSPS protocol will probably be "the new normal" this time each year for the next ten years.