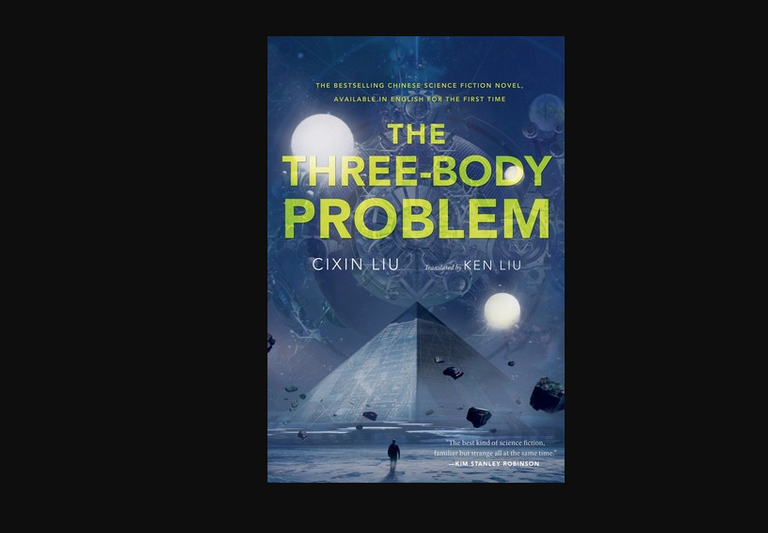 I'll try not to post any spoilers since a major one is already stamped in bold on every webpage selling this book.
For the record, this is the first book by a Chinese writer that I read. It won't be the last. By the same author :)
By the way, the book got a major Chinese award and a Hugo 2015 award. Those of you in-the-know will cherish this info.
In the city library, I already reserved books two and three of the trilogy along with The wandering Earth.
As for the first book in the Remembrance of Earth's Past trilogy in four parts, The Three-Body Problem. I liked it!
---
It's 400+ pages thick which is a lot for me since I don't devote enough time to reading.
It's a mix of three timelines, the past, the present, the in-game extremely prolonged timeline. It's a mix of characters from the past which have a major influence on the characters in the present. It has a fair share, too many, of characters which appear just to support the plot, and die quickly and painfully.
It's not a space opera since it only covers a straight line of good four light-years. And the only space flight is done by two protons if you don't count a fleet of thousand ships. Ooops, no spoilers :)
In its gist, this book is about saving humanity although it doesn't look like. At first, it looks more like ditching humanity as soon as possible since it doesn't deserve to live any longer.
This premise might be true in our present situation though.
It's also about recent Chinese history and the implications it had on individuals and on the nation.
But mostly, it's about basic science mixed with a lot of imagination. Especially the unfolding of the protons is quite far stretched. Literally :)
Should you read it?
Yes, read it:
If you are curious about how Chinese sci-fi looks and reads like,
If you would like a glimpse into the turbulent time of the Chinese cultural revolution,
if you want to play the Three-Body game and solve its problem,
if you like hard science at work in vivid imagination.
Don't read it:
when you don't like things outlined above :)
My next steps:
to read The wandering Earth,
to wait for The dark forest to become available and then read it,
then, to read Death's end,
then, probably, to read the fourth book The Redemption of Time by Baoshu.
Thank you for your attention, dear book-loving friends.
A proper Cixin Liu marathon.
---
First published on Goodreads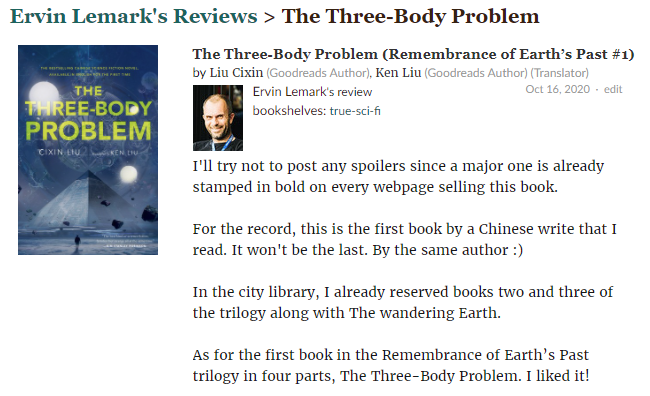 ---
Better and better