Quick Recap.
Thanks to China we have:
Severe acute respiratory syndrome (SARS)
Severe acute respiratory syndrome (SARS)2
H5N1
Possibly other pandemics, I am too lazy to check.
Meanwhile, Zhao Lijian, a spokesperson from the Ministry of Foreign Affairs of China promotes ridiculous theories again and again on Twitter about how Corona is a US bioweapon instead. Also meanwhile,WHO and as a result many other experts downplayed Corona and how serious it is again and again.. Until shit hit the fan that is.
And also meanwhile, actually not meanwhile. Since 2007, there have been papers saying that the Chinese wet markets are time bombs. You know, those markets which have bloody dead bodies of dogs, cats, bats, snakes piled one ontop the other: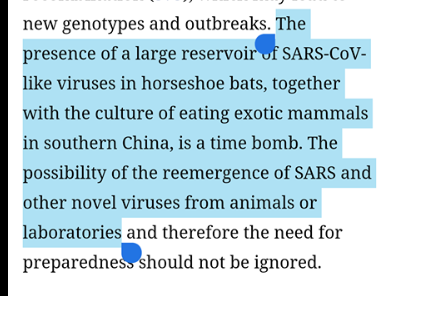 Source: https://www.ncbi.nlm.nih.gov/pmc/articles/PMC2176051/
Now, I don't know about other countries but here in Greece the mainstream media keep repeating, orange man bad. Orange man racist cause "china virus". Orange man xenophobic when he proposed to close airports but also too slow too take measures. Go figure. British Trump (borris) also bad, and serves him right for getting Corona.
Meanwhile, for other countries that are doing similar or worse than the US, like Italy or Spain all you hear is owwww, look how many dead people they have. We should pray for them. As for Sweden, I saw no sensational headlines for following essentially the same plan the bad British Trump wanted to initially follow. Like look at this shit: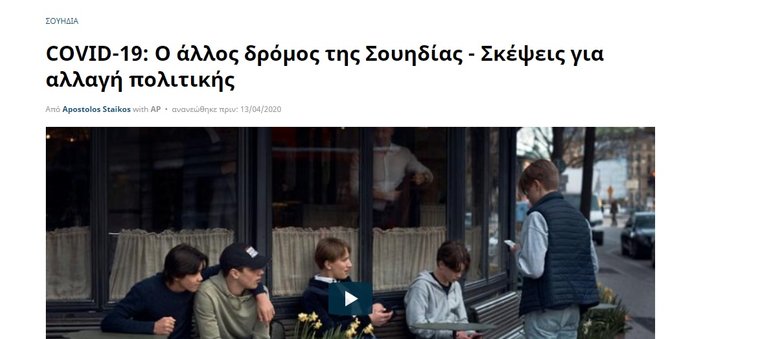 This headline translates to "The different road of Sweden - Thoughts for a change of policy". The epitome of Generic Bullshit.
At the same time, Greek headlines and reporters were going as far as to say that Boris actually wished for old pensioners to die from Corona because it would be good for the economy. Only today, I saw some headlines saying Sweden's herd immunity plan is failing but oh well, at least they tried something different that actually had a chance to succeed based on the population's different socialwhatever structure and it just...failed. And guess what? Poor them, we should pray for them.
So, to recap. According to my TV:
Orange mad bad. Millions are dieing because of him.
British Trump bad, deserves to die for being an asshole. Millions are dieing because of him
Sweden that actually followed the herd plan is good and smart, despite its failure. Let's pray for them.
Spain and Italy, oh poor them they are dieing by the millions. Let's pray for them.
China...ah yeah, the country where everything started. Oh well, shit happens. At least they managed to contain the problem and hey, they send us free, often faulty, medical supplies for the problem they created. China good. Let's pray for them too. And who cares about China now anyways? Return to 1 & 2