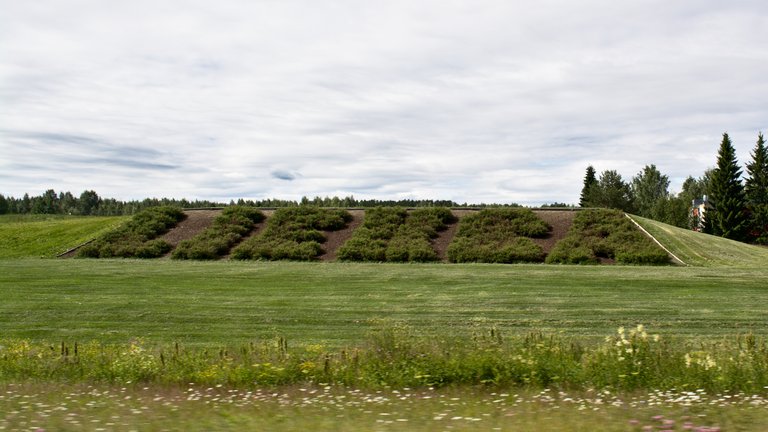 I'm back in Lieksa, for the 4th time already this year, which is a record in itself because it's 500 kilometers away from home, so we don't visit it usually but once a year. The visits have been because of graduation, birthday and a funeral. This visit will even it to 50/50 with joy and sad, because my grandfather's cancer has reached a point where it's of no use to fight against it anymore, and my grandfather doesn't want to be his last days to be stretched by force. When the time comes, it comes. He's been given an estimation of about 3 weeks by the doctor, so it'll probably be the last time seeing him alive.
I'm fairly neutral with this though, since I've never been particularly close with him, mainly because most of my life I've lived 500 km away from him. But recently I've got to know him a bit more, and I've learned that he was a builder having built several houses in his lifetime. He was also very innovative and came up with several inventions and patents, some were actually useful, and some were just for the funtsies, like an electric kicksled that was powered with drill's battery. One of his recent ideas was a wind and solar powered boat that would - in theory at least - be able to sail against the wind, because the wind would be powering the propeller with a cylinder shaped wind turbine. He never got to create that though since he was too old and out of energy to do that.
This aspect of his personality has been a platform through which I've been able to connect with him thanks to my own interest in future technology innovations. No, I didn't go with cryptocurrency, but I did talk about SpaceX, 3D-printing and electric cars - the latter of which my grandfather had already had the idea of 30 years ago. It did take a while, but now they're starting to become more commonplace.
It's interesting how we get to live just in the middle of a revolution in technological advancements. I was born in 1998, so I was one of the last generations who still had the classic Nokia cellphone as my first phone. Now it's all school kids glued to their smartphones walking outside. I also got to experience the early stage of the Internet, online games, and the classic MSN Messenger in my adolescence. And now I can not only observe, but be part of another technological revolution: cryptocurrency, magic money on the internet based on distributed ledger, blockchain technology.
I think my grandfather would've been amazed by these new technologies had he lived long enough to witness them, since he seemed to be ahead of his time; even in his death bed he is thinking such things such as why solar power remains so unutilized and what could be done to roll its adoption further.
My grandfather also has a plot for which he would already have a floor plan waiting to be implemented - with solar panels of course. There are skilled people in my family who could make it happen, but it would take a lot of work for sure, such is building of anything. Maybe if I became a Steem millionaire I could help funding the building process, maybe even help building it myself. But let's not get ahead of ourselves, gotta take it day at a time and keep building on the silicone city we have here, because the time for the one who waits is a long one, as we say in Finnish. Might as well use that time proactively to get slightly faster to the future.