About Telos
Telos (TLOS) is a smart contract blockchain running on EOSIO software. It uses Delegated Proof of Stake (DPOS) consensus. TLOS is the native currency of Telos eco system.
The Telos blockchain offers dApp developers 0.5 second block times, transaction rates in excess of 1000 transactions per second, and free transactions.
The blockchain became live in the winter of 2018 and it used a modified EOS genesis snapshot where all accounts were capped at a maximum of 40000 TLOS. This resulted in a broad and relatively equitable initial distribution of approximately 300 million tokens to EOS genesis account holders. The current supply of TLOS is 355 million and inflation rate of token is 0%.
Easiest process to create a free account
Telos account creation is not free just like EOS and it has a certain cost! It has desktop wallet and supported by a lot of mobile wallets. If you have a Telegram account, you can create a free Telos account due to the compliments of the Telos Foundation which has deployed huge funds for creation of approximate 2 million free accounts.
Open a chat with The Teloscope Bot, press Free Telos Account and follow the instructions one by one. You just need to fill in the account name and the keys.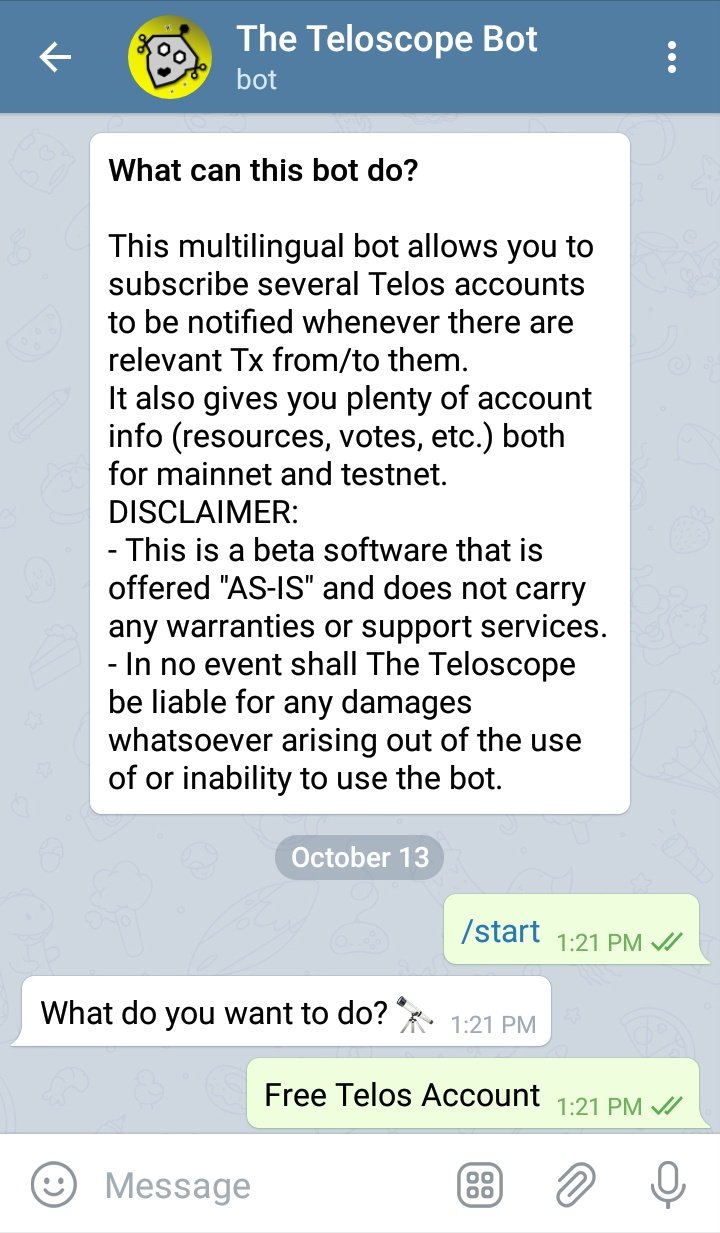 It is needed to have a minimum amount of TLOS tokens for creation of a new Telos account. As you need one free of cost, the Telos Foundation will pay for your account's initial RAM, CPU, and Network. The telegram bot is quite well programmed and it will confirm that your new account is completely operational by sending you a Telegram message with information about your account within 1-2 minutes. Have patience till that time!
Please note that it is must for you to have a Telegram username. You may have a display name but it will not suffice. To allow the bot to chat with you, telegram username is needed. So please make sure to set one username in the Telegram app settings before asking the bot for a free Telos account. You can easily set a Telegram username by going to the telegram Settings - Username and typing an available name.
I guess now all is done! Your Telos account should be ready. Keep your private key safe. Use the private key to import Telos account to any kind of wallet like Lynx (yes, it supports Telos).
Important Links
Telos Website
Link to coinmarketcap