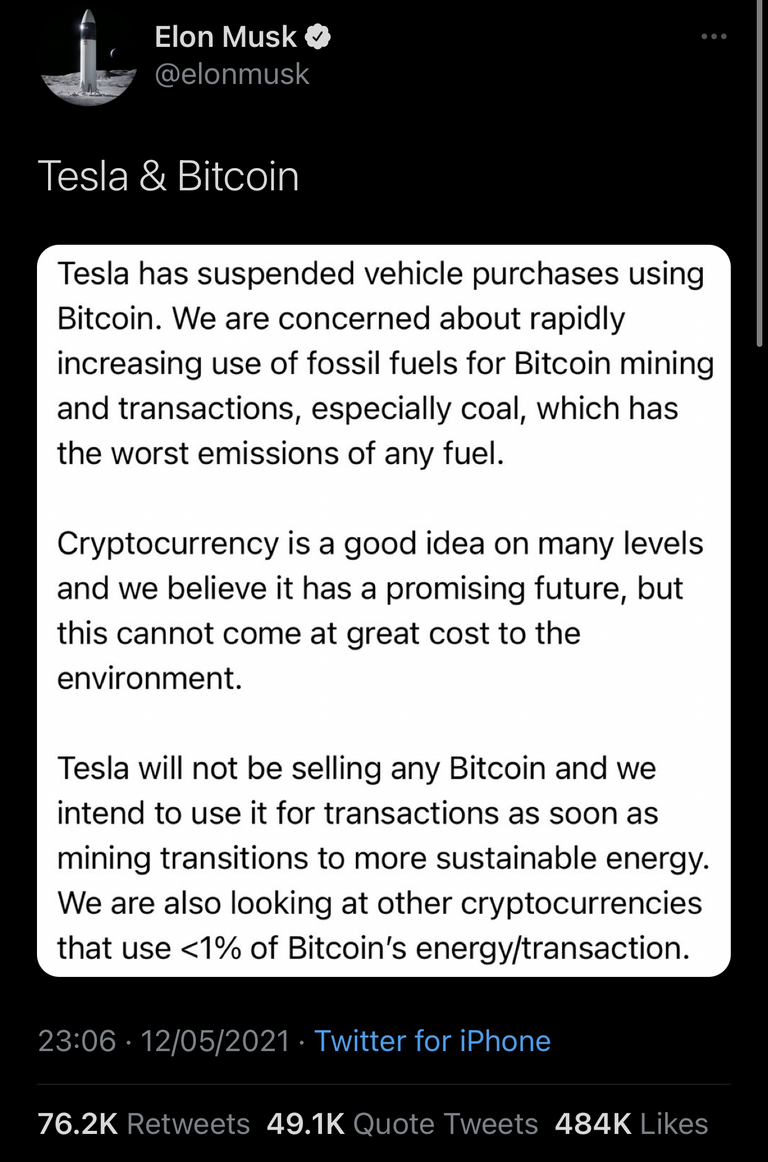 Elon Musk, one of the major bitcoin enthusiasts and advocates stated in a recent tweet that his company Tesla has suspended the purchase of their cars using Bitcoin, this has resulted in a rapid plunge in the price of the cryptocurrency. He stated that the reason for this decision is a result of his concern about the hazards accompanying the BTC mining process. The aftermath of this tweet resulted in the fall in price from $54,600 to about $47,000. The Bitcoin mining process requires the use of fossil fuel which has dangerous emissions that negatively affect the environment. As much as Bitcoin and cryptocurrency are promising as far as the future of finances is concerned, it shouldn't be done at the expense of the environment and people's lives. Actually, this is not the first time a post is going viral on the cost of BTC mining on the environment, so it should be
Must state that Tesla will not be selling Bitcoins until a more sustainable mining system is discovered. He said that he is on the lookout for cryptocurrencies that use less than 1% of BTC energy. As a known advocate of the cryptocurrency whose public statements have contributed to the increase in value of BTC, This present position may not be favorable for other Bitcoin investors. But it looks like Mr. Musk has a point as people's lives are involved. He also assured that clients who have bought in Bitcoin will still have their assets stored as BTC and will not be converted to Fiat currencies.
Although Bitcoin made losses after the tweet, it's now back to $51,350 as compared to its fall to $47,000 which is still about 10% lower than its previous price of $54,600.
Musk asked his followers in a recent tweet before the bitcoin announcement whether Tesla should start accepting Dogecoin payments. This looks like there might be something cooking for the meme coin as it has a lesser cost on the environment.
Meanwhile crypto billionaire and co-founder of Ethereum, Vitalik Buterin donated ether and dogecoin worth $1billion to support to fight the ongoing covid-19 wave. Shortly after his donation, the price of the cryptocurrency experienced a crash. The 27-year-old stated he had also contributed to other non-profit organizations.