Hi all,
Today I will present you Crypto.com aka Mona.co (Token MCO).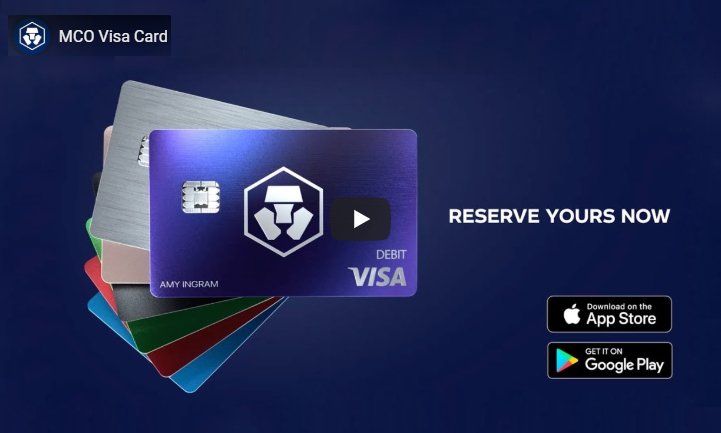 This company launched a very successfull ICO in 2017 and its product is now heavly advertised in USA, Singapore and is now also available in Europe !
Crypto.com is proposing a METAL Visa Card which is linked to your wallet on Crypto.com. Nothing really new as several companies are already proposing this kind of service like coinbase or Wirex. You can load that card with lot of different crypto but also in USD, Euros and many other devises via a bank wire.
So what are the big advantages of Crypto.com :
NO FEES on the transactions. Yes you read well !

Depending of the card you will select, you will receive from 1% to 5% of cashback on all your spendings ! Please notice also the other advantages, depending of the card you will select, like free Netflix, Airport lounge access and Spotify,... They are really proposing you the advantages of a Platinium Credit Card available only in banks !


You can stake your crypto in exchange of one of the best interest rate available on the market. Up to 12% on Stable coins like Dai, USDT, USDC ! 6% on BTC, ETH and many others !


You can invest, exactly like in a bank, to different Portfolio depending of the risk that you want take :


You can trade also as they have a trading plateform where the fees are ones of the best available on the market if you hold some CRO token (Crypto.com Coin). This is similar to what binance is doing with his binance coin.

Are you interested? I advise you todownload their app via my affiliate link. You will receive an bonus of 50$ in MCO token if you take at least the rubis card and I will receive the same than you. It is a Win-Win deal !
So follow that link with your phone to download the application : https://platinum.crypto.com/r/zj9fezv8uu
If ever, the application is still asking you a referring code to receive your bonus of 50$, please enter : zj9fezv8uu
If you have any questions, don't hesitate to ask them here in the comments or check their very detailed FAQ here
I wish you massive profits,
Cryptopassion.io
Legal Disclaimer : Never invest more than what you can afford to lose. I am not a financial advisor and the content in this article is not a financial advice. This post is for informational purposes only and provides only my personal opinion. It is important that you do your own research before making any investment decisions. If you make any trades after reading this post, it is completely in your responsibility. I am not responsible for any of your losses. By reading this post you acknowledge and accept that.