You may know that I like to play around with music and that tends to mean routing various signals around. I have various sources feeding into my desktop speakers (some hefty 6" speakers with lots of power) including a couple of PCs, an old receiver that acts as a pre-amp for my record deck and a feed from my guitar effects unit. Those are all going through a box that goes with an audio interface card and it does not let you adjust the volume of each signal individually. Sometimes you need something more versatile and this is where a mixer comes in.
A while back I had box of electrical items that had been donated to a charity shop that they wanted me to check over. There was a load of games consoles, but also two mixers.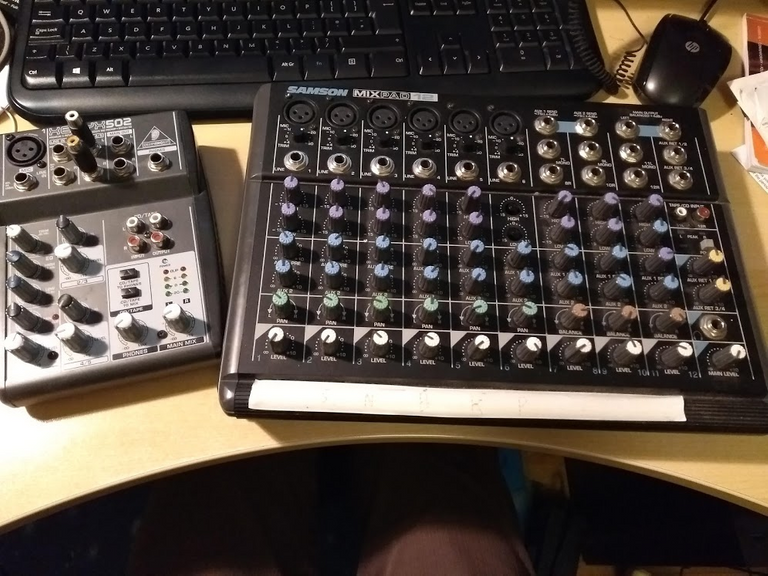 On the left is a Behringer Xenyx 502. This is a simple unit that can take a single microphone and a couple of stereo sources. I have actually used this at an open mic evening where we could plug one or two guitars in and sing along. I have also used it to feed an audio interface.
The Samson Mixpad 12 is a much larger unit with lots more channels. That was missing its power power supply and that made it unusable, but I kept it just in case. I did look online back then, but could not find one for sale. I pulled it out again last week and had another search. I found two power supplies on ebay, so bought the cheaper one. It just arrived today. It had a two-pin plug on it, but I had an adaptor for a UK socket. I may swap the plug. You may be able to see it ends in a 5-pin DIN plug that supplies two voltages, so it was not really viable to make something myself. These power supplies are quite bulky, but you can tuck them out of the way.
Of course I tested it and it worked okay with a couple of microphones I have. For this MXL condenser you need the mixer to supply power, but that is on by default with the Samson. I do not see myself using six microphones any time soon, but someone with a drum kit could. It also has three stereo channels.There are a couple of knobs missing, but that is no big deal if I am not using all the channels.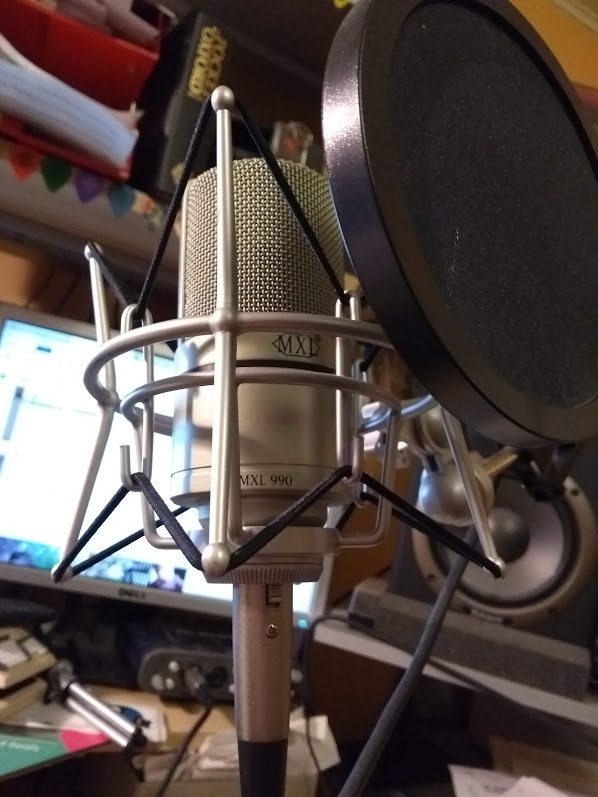 Neither of these mixers has any effects built in. It seems a lot of newer models have echo and reverb, which are useful if you are using them as part of a PA system. Vocals without a bit of 'room' can sound a bit flat. I used to have a little reverb unit, but I swapped it for a guitar pedal.
The Samson has basic EQ controls for each channel whilst the Behringer only has it on the mono input. The Samson also has connections to send signals to external effects where the level can be adjusted for each channel. What it seems to lack is a volume control for the headphone output. That is not affected by the master volume. That seems a strange omission, but then this is a budget mixer. I use a much bigger one at our pub open mic sessions that does have effects and more channels.
I cannot justify spending lots of money on studio gear, so I make do with what I can get. These mixers did not cost me much and should cover my needs. They also do not take up too much space. Note that I made a donation to the charity shop for them.
The geeky guitarist and facilitator of the 10K Minnows Project.