(TLDR) You can also watch this as a video!
Obviously, DS-Tech Media is centered around my video content, so you can find the video on Youtube, Dtbue, BitChute and LBRY:
Youtube:
Dtube: https://d.tube/v/ds-tech/QmTuFDZWWFPaCCKLfB83EaQUaB55PnuHDHQyjhLpvhpzZq
Bitchute: https://www.bitchute.com/video/RyILnVxJjG0/
LBRY:https://beta.lbry.tv/@ds-tech:a/android-q-review-of-new-feautres-android:a
My very formal, written review:
I recently installed the update for Android 10 Queencake on my Google Pixel XL. Yes, I'm still using the first generation Pixel XL, and yes I'm still getting Android's latest releases. It came out a few months ago so I'm pretty late, but hey better late than never.
Android 10, common referred to simply as Android "Q" marks a departure from Google's naming scheme of giving each release a different sweet food name. So that's new? On their website they give us these major hilights: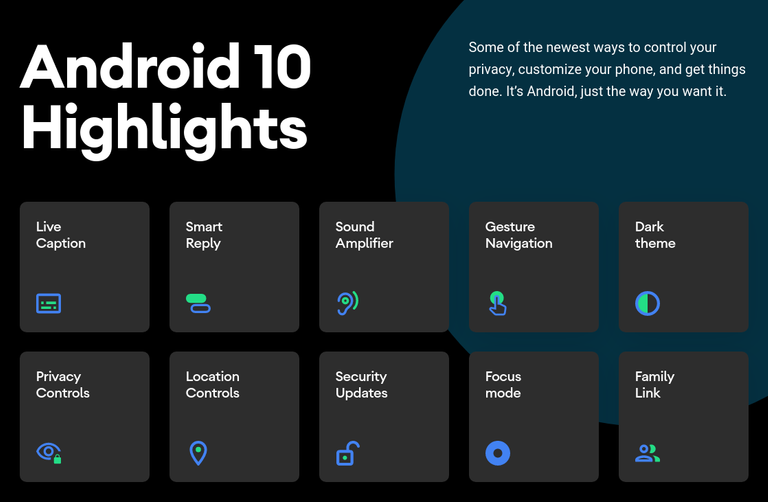 Which includes some that I was not able to enjoy because my Pixel XL is too old. This is a first for me.
The notable feature is Google's new Live Caption, which allows your phone to transcribe virtually ANY audio the device is playing or even listening to. So any video you're watching, what people around you are saying, anything is the impression I get from what I've read. If you're lucky enough to be able to use this feature, there's even an app that will take notes by voice dictation. What's even better about all this? It runs locally on the device rather than relying on Googles cloud service matrix.
Another subtle feature that's not showcased prominently is the floating bubbles feature. For developers that choose to include it, app's will be able to "float" as a bubble just like Facebook's Messenger app.
There are some improvements to Smart Reply, which adds actions to the existing suggested replies. The example given is that it will give you the option to respond with a Yes or Thumbs Up to a dinner invitation, and then will automatically open up Google Maps to recieve the directions.
App Permissions and Privacy have been overhauled, you can now see all the permissions with a list of the apps using those permissions. You can also fine tune the permissions like allowing apps to get your location on-demand, or only when you're using the application. You can now opt out of ad-retargeting and personlization, and choose if certain data is stored on your phone or remotely, and for how long.
There's new gesture controls, you can remove the traditonal Back/Home/Overview buttons altogether and just use gestures. OR you can try out the new two-button setup, which removes the Overview(Square) button, and only replaces that with a gesture. A note to people who use third-party launchers, like myself: The new gestures system DOES NOT work with custom launchers, only the Pixel Launcher.
Security Updates in Android 10 are going to be pushed out much faster by bypassing your phone's manufacturer and simply being installed from the Play Store istelf.
There's new wellness settings, and a focus mode that disables distracting apps. Plus a new networked Family Link system that will let parents control their children's Android devices.
Now the Good Stuff!
On the Android site, Google only mentions the new Sound Amplifier which actually has to be installed as an app from the Play Store. This app let's you fine tune microphone input settings, whether from the onboard mic, or headphone-jack, bluetooth, even USB microphones. It gives you control of amplication and sound EQ as well as three levels of noise suppression.
What's more exciting is that the amplifier is just a small part of the new sound architecture that's being made available to developers, including allowing applications to record internal audio instead of needing to record the sound from your speakers via microphone. The new sound API adds realtime capability which should fix latency, something that has plagued Android for a long time now. This could mean Android will finally be able to enjoy quality hardware and software for music and audio production/recording like iPhone and iPad currently have a seeming monopoly on.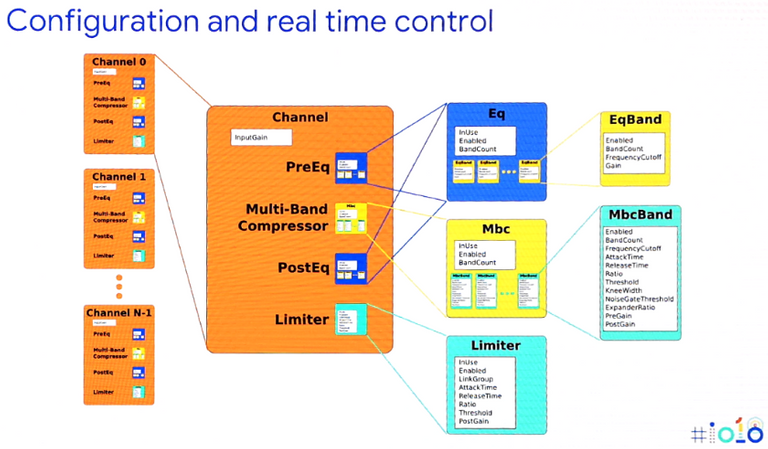 But the BIG news is obviously, a system-wide Dark Theme! Bravo, Google, Bravo. They finally implemented the option to swtich between bright white or completely black for the system apps and the notification pull-downs. This is something that phone manufacturers have been adding forever, but you'd have to live without if you wanted stock Android and the immediate updates from Google. Having dark mode makes me very exited, but I have to complain because it's literally just a deep black. They need to add the option for multiple themes in colors. An added benefit is that this will reduce power drain on your battery.
In my video I also explore the new theme engine options that are hidden in developer mode which allow you to change the notification shortcut/favorites icons colors and shapes. Additionally you can switch the system font as well.