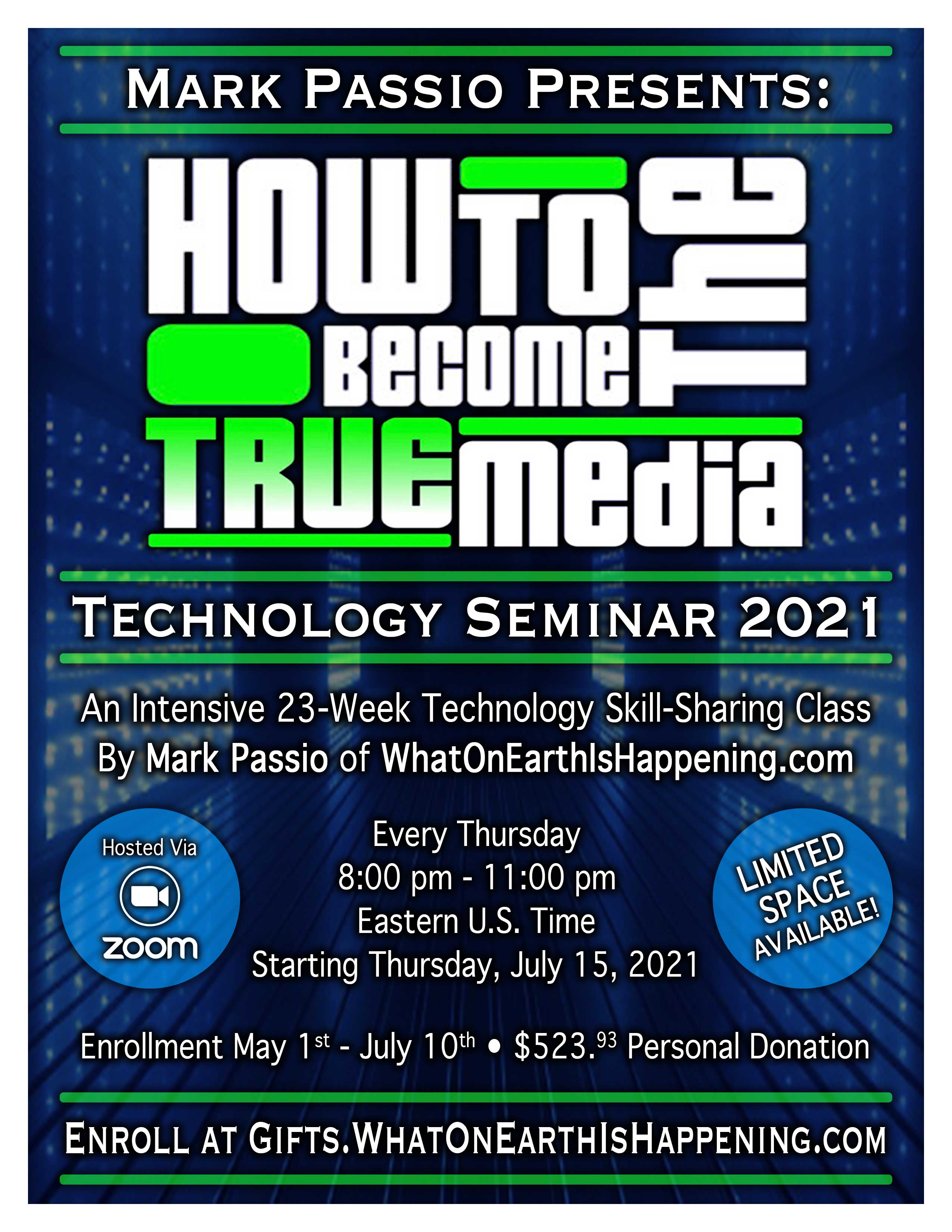 Click Here To Enroll.

HOW TO BECOME THE TRUE MEDIA
2021 Online Seminar

An Intensive 23-Week Technology Skill-Set Sharing Seminar Hosted Via Zoom
By MARK PASSIO of WhatOnEarthIsHappening.com

Every Thursday 8:00 pm – 11:00 pm Eastern U.S. Time
From Thursday July 15, 2021 to Thursday, Decmber 16, 2021 (Total of 23 Class Sessions)

Limited Seminar Space Available.
$523.93 Personal Donation

Enrollment for this seminar ends July 10, 2021 at 11:59 pm Eastern U.S. Time.

Beginner & intermediate skill-sets to be taught in this seminar include:
Operating System Skills
File Systems & Disk Formatting
File & Folder Management (HFS)
Workflow & Best Practices
Word Processing & Publishing
Internet & Networking Basics
Searching The Web & Dark Web
Graphic Design
Print Publishing
Building Presentations
Audio Editing & Publishing
Video Editing & Publishing
Web Publishing
Video Conferencing
Sharing Via Cloud Services
Media Hardware & Equipment

Please note:
This is a PRIVATE, BY-INVITATION-ONLY seminar.
Each personal donation is for ONE student invitation to the seminar. Each student must enroll separately.
In return for your PERSONAL DONATION, you will receive a PERSONAL INVITATION to attend the online seminar.
These classes are hosted LIVE, and will NOT be recorded for later playback. If you can not attend in LIVE time, do NOT enroll.
The only computer system requirement to attend this seminar is that your system must meet the Zoom Client System Requirements. Almost all modern desktop or laptop computers will meet these basic requirements.
A short time after you have completed your donation to enroll in the
seminar, you will receive by email a link explaining how the class
invitations and virtual classroom environment will work. This email will
also contain a link to download the Zoom video conferencing software,
and a link to enter the live seminar.
Make sure to enter valid, correct and up-to-date contact
information, BOTH email address AND phone. If we are unable to contact
you after you enroll, you will not be able to receive the link to enter
the seminar.
Shortly after making your donation to attend this seminar, you will
receive an email containing a download link. Click this link to download
a PDF file which contains important NEXT STEPS to follow.