Patient presents lesion in the hard palate. | Paciente presenta lesión en el paladar duro.
​​​​​​​​​​​
​
¡Hola mis queridos amigos de Hive amantes de la ciencia!
​
Hello dear science-loving hive friends.
Mis queridos amigos de esta comunidad de ciencias tenía varias semanas sin pasar por aquí, pero no obstante el día de hoy les traigo una publicación bastante interesante, las patologías bucales son extremedamente frecuentes en los centros públicos, puesto que las personas asistenten no de manera preventiva sino cuando ya se tiene evolución de las lesiones, con abundante dolor, ulceraciones entre otros, así como también sangrado. Cabe destacar que se debe asistir de manera preventiva al odontologo para asi hacer una detención temprana de las lesiones y abordar el caso con el mejor tratamiento oportuno.
My dear friends of this community of sciences had several weeks without passing by here, but nevertheless today I bring you a very interesting publication, oral pathologies are extremely frequent in public centers, since people attend not preventively but when there is already evolution of the lesions, with abundant pain, ulcerations among others, as well as bleeding. It should be noted that the dentist should be attended preventively in order to make an early arrest of the lesions and address the case with the best timely treatment.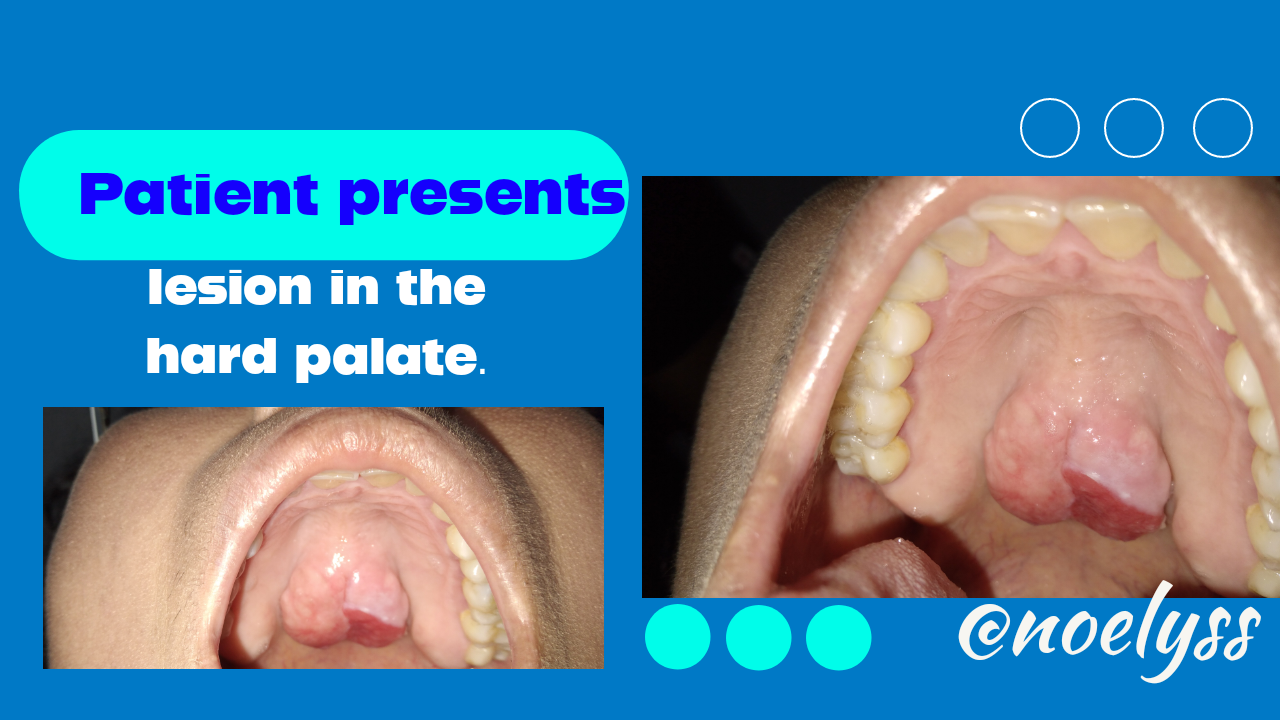 Paciente femenina de 50 años de edad acude a consulta dontologica tras presentar una lesión en el paladar duro manifestando poseer más de un mes con la misma en la cavidad bucal, manifestó que el dolor es bastante fuerte altamente doloroso, cabe destacar que la paciente presenta torus palatino una protuberancia ósea, que es una exostosis óseas debido a un aumento o crecimiento del hueso de manera excesiva o exagerada, particularmente está lesión tiene las características de un afta pero con la gran diferencia que está lesión cicatriza en un tiempo aproximado de 2 semanas y no posee un gran diametro como la aque podemos apreciar en boca de la paciente, por lo que se debe descartar un afta.
Female patient of 50 years of age comes to consultation dontologica after presenting a lesion in the hard palate stating having more than a month with the same in the oral cavity, said that the pain is quite strong highly painful, it should be noted that the patient has torus palatine a bony protrusion, which is a bone exostosis due to an excessive or exaggerated increase or growth of the bone, particularly this lesion has the characteristics of a canker sore but with the great difference that this lesion heals in approximately 2 weeks and does not have a large diameter as the one we can see in the patient's mouth, so it should be ruled out a canker sore.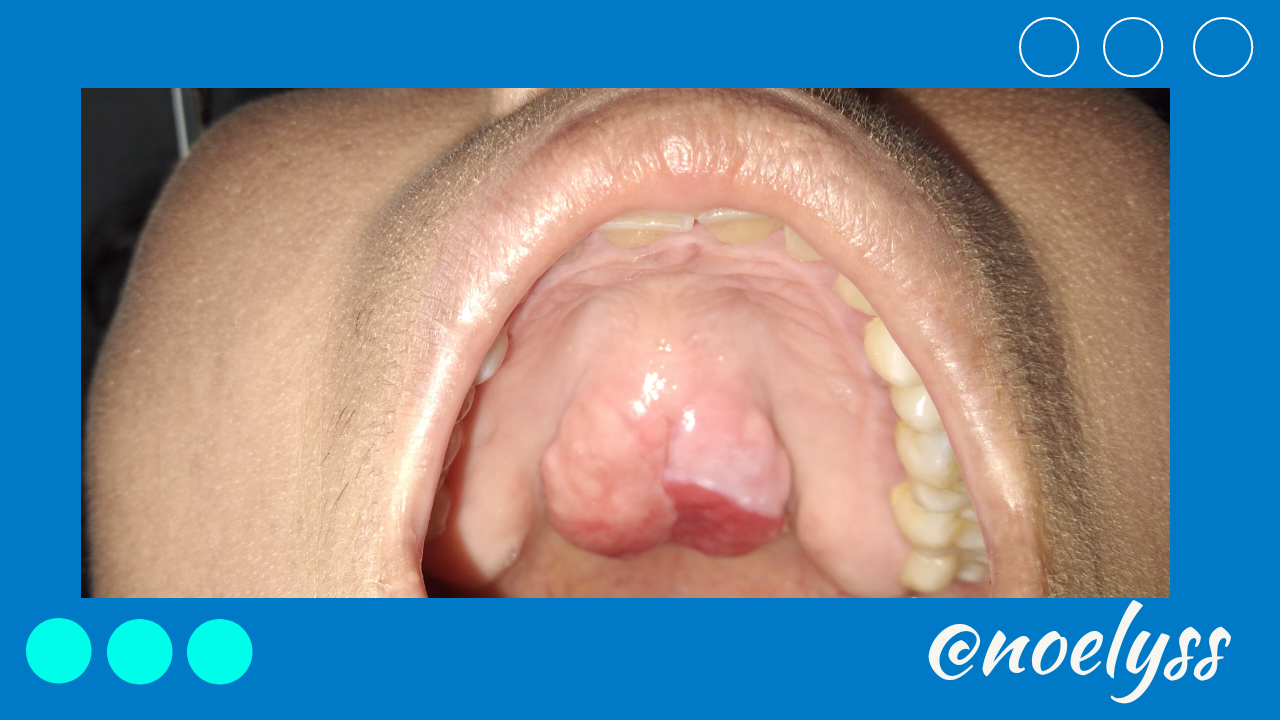 Las características clínicas que posee esta lesión es una área eritematosa e ulcerada aproximadamente de 3cm de diametro, dolorosa esta lesión no es sobreelevada o pediculada no posee base sesil, es de manera redondeada totalmente indurada a la palpación no es fluctuante a la palpación, totalmente eritematosa, que quiere decir que es de color rojiza la lesión no es hemorragica, estas es una de las características más preocupante de la lesión el color rojizo así como también el tiempo de evolución que posee.
The clinical characteristics of this lesion is an erythematous and ulcerated area of approximately 3cm in diameter, painful, this lesion is not raised or pedunculated, it does not have a sessile base, it is rounded, totally indurated on palpation, it is not fluctuant on palpation, totally erythematous, which means that it is reddish in color, the lesion is not hemorrhagic, this is one of the most worrying characteristics of the lesion, the reddish color as well as the time of evolution it has.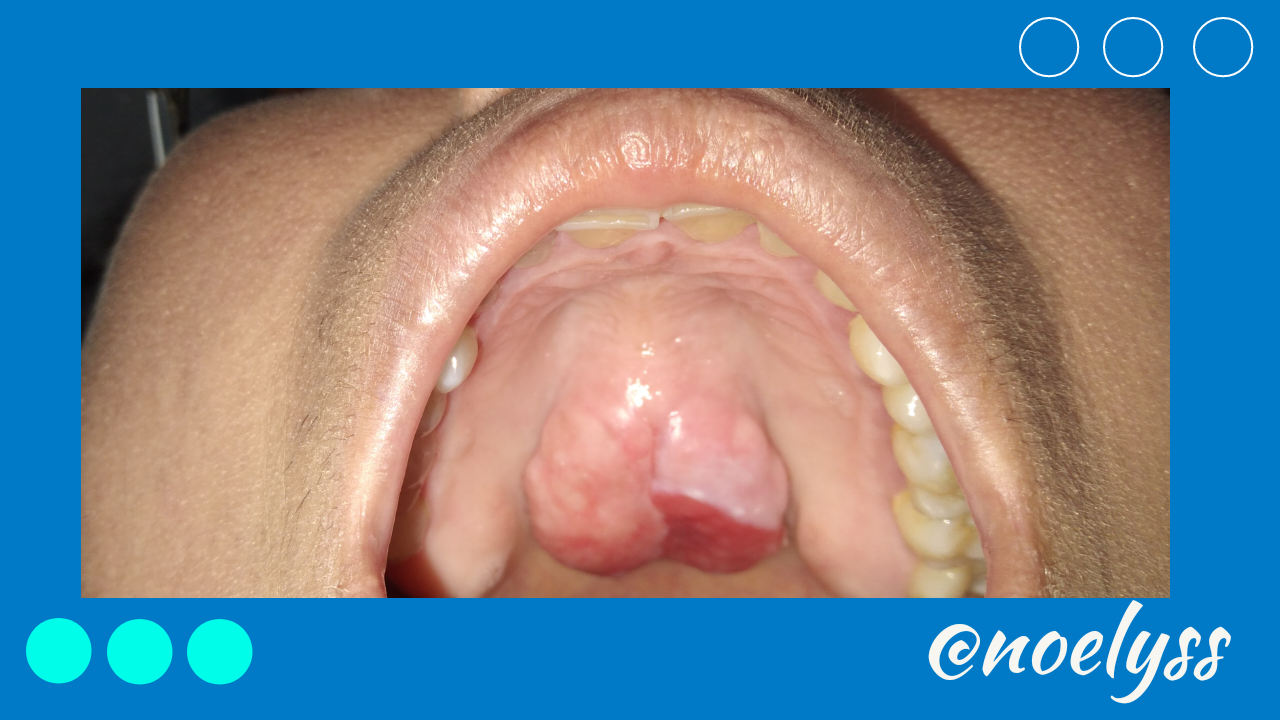 Se puede considerar que según las características, puede ser un penfigo vulgar que es considera un trastorno inmunitario, en la cual se van a formar ampollas o úlceras, este tipo de lesiones son muy comunes y podemos encontrarlas en cualquier parte de la piel así como en las membranas de las mucosas cabe destacar que la primera localización más predominante es el paladar duro, tiene una mayor predilección por el género femenino cocomo es el caso de la paciente, sin embargo es un diagnóstico netamente tentativo, puesto que hasta no poseer resultados de estudios histopatológicos no podemos dar un diagnóstico.
It can be considered that according to the characteristics, it can be a pemphigus vulgaris which is considered an immune disorder, in which blisters or ulcers will form, this type of lesions are very common and we can find them in any part of the skin as well as in the mucous membranes, it is worth mentioning that the first most predominant location is the hard palate, It has a greater predilection for the female gender as is the case of the patient, however it is a purely tentative diagnosis, since until we do not have results of histopathological studies we cannot give a diagnosis.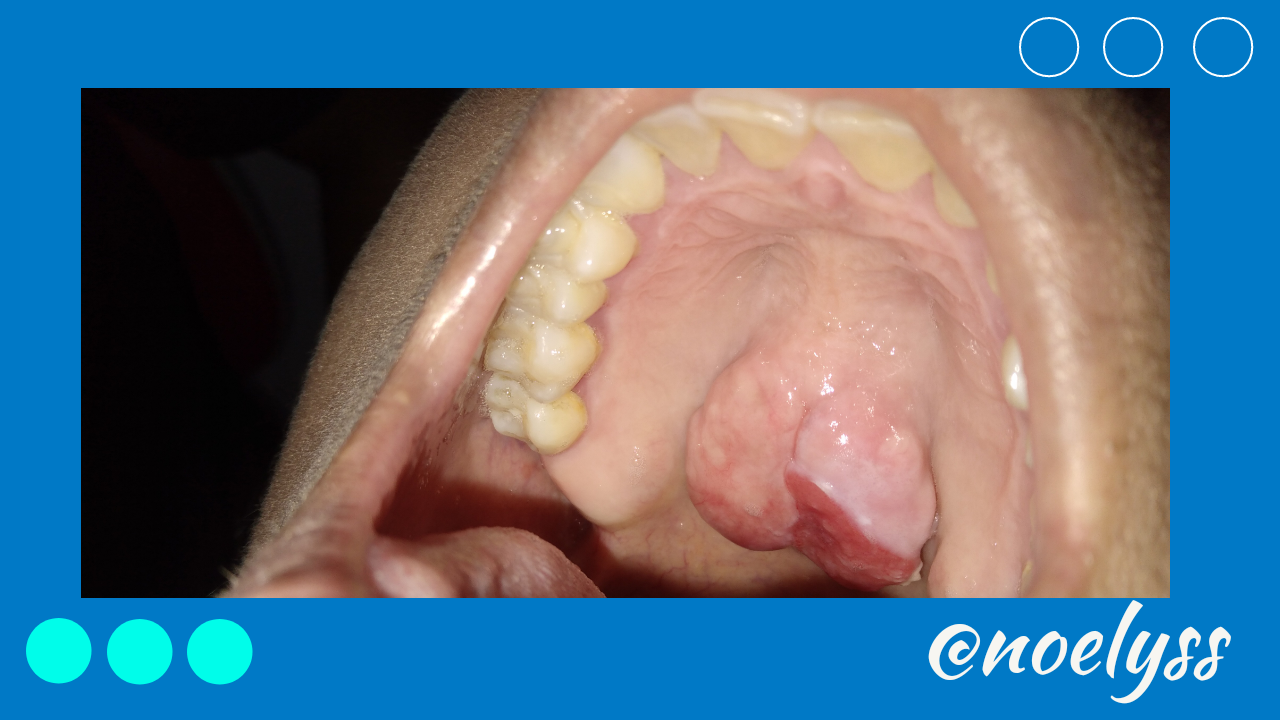 Por último la paciente será impeccionada cuanto antes con la especialidad de cirugía bucal, para así tomar una biopsia y poder tener un resultado del estudio de las células de esa paciente, cabe destacar que esta es la única manera para tener un diagnóstico certero y dar el mejor el tratamiento para la paciente. Una de las consideraciones que debemodebemos tener en cuenta que esta lesión puede ser reactiva debido a un trauma constante debido a la presencia dedel torus palatino pero la paciente manifiesta, que no tuco ningún trauma y que la lesión apareció de repente.
Finally the patient will be impeccable as soon as possible with the specialty of oral surgery, in order to take a biopsy and to have a result of the study of the cells of that patient, it should be noted that this is the only way to have an accurate diagnosis and give the best treatment for the patient. One of the considerations that we must take into account is that this lesion can be reactive due to a constant trauma due to the presence of the palatal torus but the patient states that she did not have any trauma and that the lesion appeared suddenly.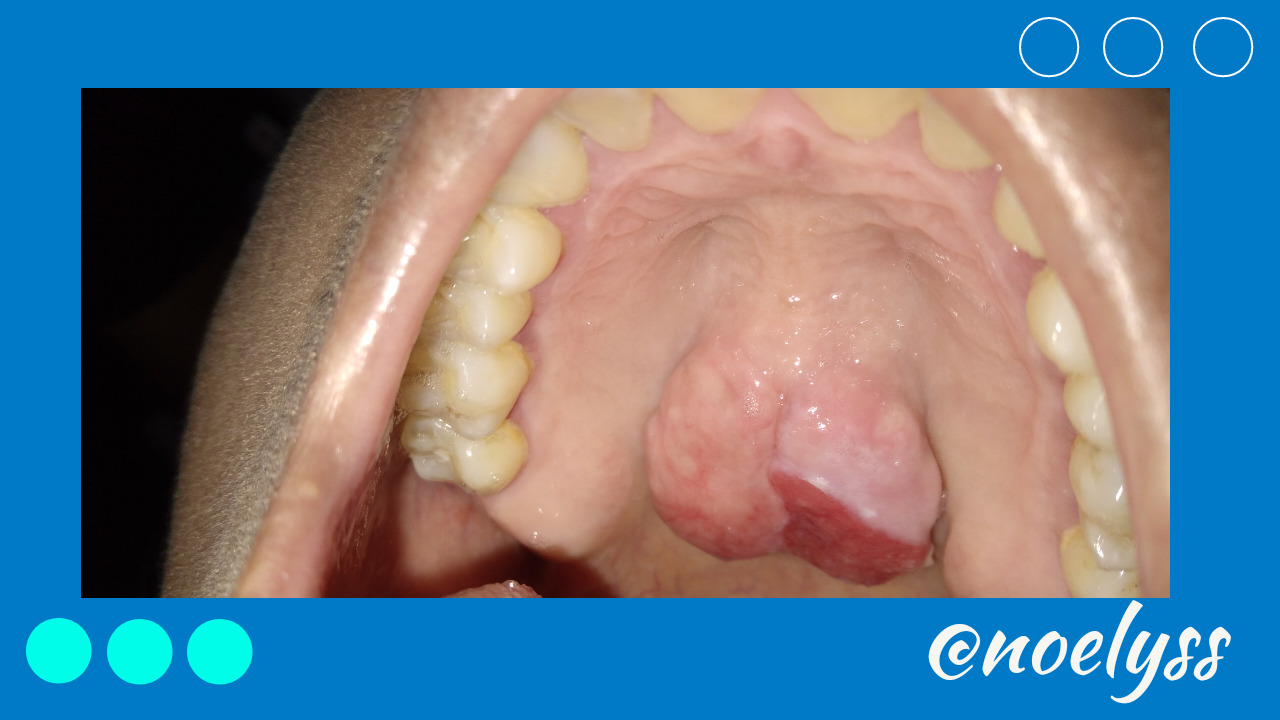 Referencia Informativa/Reference Informative:
http://ve.scielo.org/scielo.php?script=sci_arttext&pid=S0001-63652008000400017#:~:text=El%20p%C3%A9nfigo%20vulgar%20es%20una%20enfermedad%20cr%C3%B3nica%20autoinmune%20mucocut%C3%A1nea%20que,se%20trata%20de%20forma%20adecuada.
---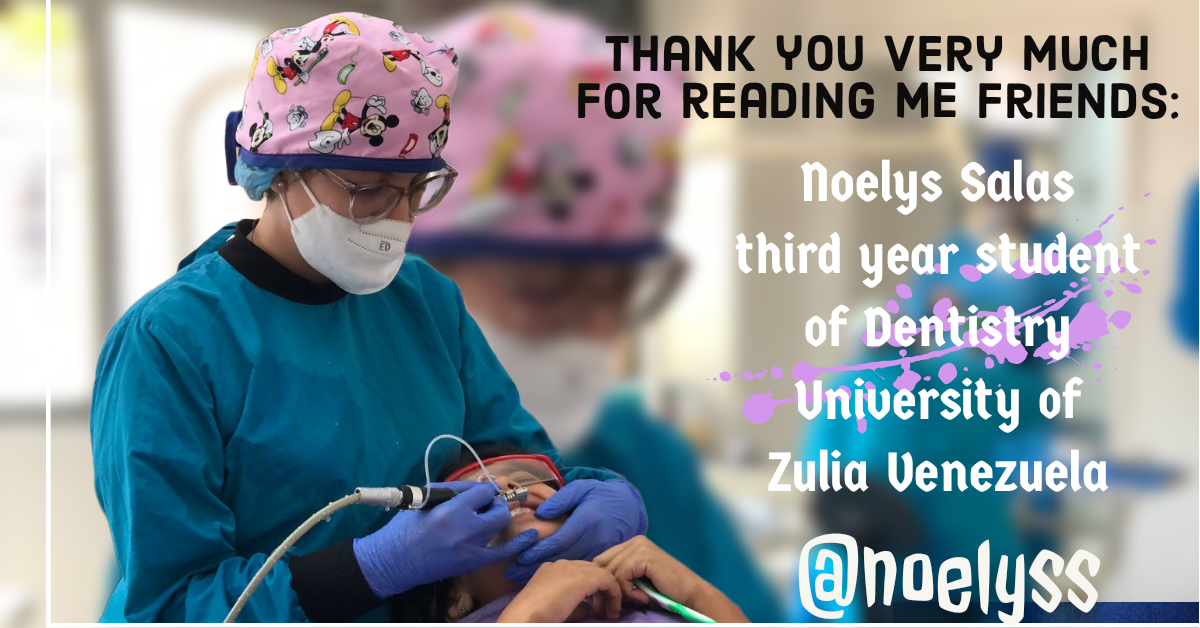 Imágenes creadas por mi en Adobe express.
Images created by me in Adobe express.
​
Las fotografías fueron tomadas con un teléfono samsung A02s
The photographs were taken with a samsung A02s phone.
Las fotos son de mi pertenencia, tomadas por mi.
The photos belong to me, taken by me.
Texto traducido en Deelp
---
---