Pollination of a Flower, Difference between Self Pollination & Cross Pollination & The Advantages of Cross pollination Over Self Pollination
Pollination is a critical process in plant reproduction, where pollen is transferred from the male reproductive organs to the female reproductive organs of a flower, leading to fertilization and the production of seeds. There are two main types of pollination: self-pollination and cross-pollination.
Self-pollination occurs when pollen is transferred from the anther (the male reproductive organ) to the stigma (the female reproductive organ) within the same flower or within flowers of the same plant. This can happen due to natural mechanisms like wind or by the flower's own structural design. Self-pollination ensures reproductive success in plants that have flowers that are capable of fertilizing themselves. Some plants have evolved to rely solely on self-pollination, while others are capable of both self and cross-pollination.
Cross-pollination, on the other hand, takes place when pollen is transferred from the anther of one flower to the stigma of another flower on a different plant of the same species. This requires the assistance of external agents such as insects, birds, bats, or wind. Cross-pollination enhances genetic diversity by facilitating the exchange of genetic material between different plants. This genetic diversity can lead to healthier and more adaptable populations.
Now let's discuss the advantages and disadvantages of self-pollination and cross-pollination. Self-pollination ensures reproductive success even in the absence of external agents, making plants less dependent on external factors for pollination. It is a reliable method of reproduction, particularly in stable environments. However, it can limit genetic diversity and hinder the adaptability of plants to changing conditions.
Cross-pollination, on the other hand, promotes genetic diversity and increases the chances of producing offspring with desirable traits. It allows for the combination of beneficial genetic traits from different individuals, which can lead to stronger and more resilient populations. However, cross-pollination requires the presence of specific pollinators or environmental conditions, making it a more complex and contingent process.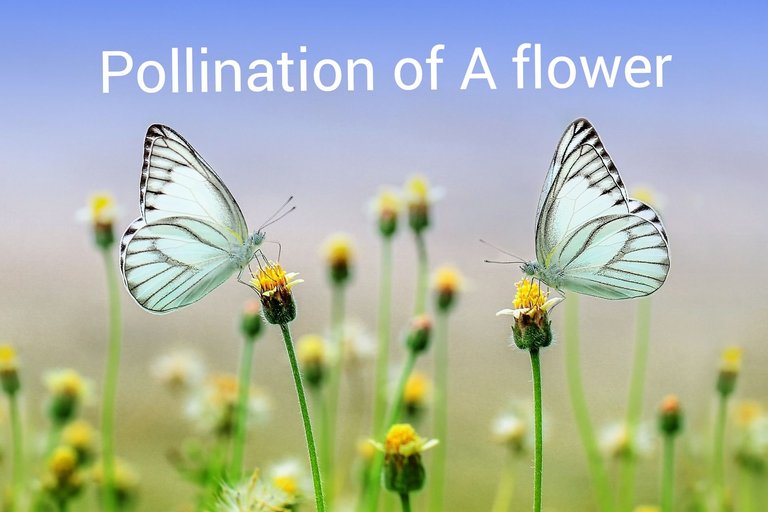 source
---
To control or influence pollination, particularly in agricultural settings, humans can intervene through various methods. These include:
Hand Pollination: In situations where natural pollinators are absent or insufficient, manual transfer of pollen can be done using tools like brushes, cotton swabs, or even small paintbrushes.

Selective Breeding: By selecting parent plants with desirable traits and encouraging cross-pollination between them, breeders can create new plant varieties with improved characteristics.

Habitat Management: Providing suitable environments and resources for pollinators, such as planting diverse flowering plants, maintaining nesting sites, and minimizing pesticide use, can help attract and support pollinator species.
Advantages of Cross pollination over Self pollination
Cross pollination offers several advantages over self pollination, which are highlighted below:
Genetic Diversity: Cross pollination leads to increased genetic diversity among offspring. Since the pollen comes from a different plant, it introduces new genetic material, which can enhance the adaptability and resilience of the offspring. This genetic diversity is crucial for the survival and evolution of plant species, enabling them to respond to changes in the environment.

Hybrid Vigor: Cross pollination often results in the creation of hybrids. Hybrids generally exhibit superior traits compared to their parent plants through a phenomenon known as hybrid vigor or heterosis. These desirable traits may include increased vigor, improved disease resistance, larger yields, or enhanced aesthetic characteristics. Such advantageous traits can significantly benefit plant breeding efforts and agricultural productivity.

Encourages Outcrossing: Cross pollination promotes outcrossing, which is the mating between genetically distinct individuals. Outcrossing helps prevent the negative effects of inbreeding, such as the accumulation of harmful mutations and decreased fertility. By facilitating outcrossing, cross pollination contributes to the long-term viability and survival of plant populations.

Facilitates Adaptation: Cross pollination plays a crucial role in plant adaptation to changing environmental conditions. By promoting genetic diversity, it enables the creation of new traits and variations that can better equip plants to cope with diverse ecological niches and challenges like pests, diseases, drought, or other stressful conditions. These adaptations enhance the chances of plant survival and success.
To control cross-pollination, certain measures can be taken, particularly in agricultural settings where controlled breeding is desired. These methods include:
Isolation Techniques: Physical barriers such as nets, bags, or cages can be used to isolate plants, preventing cross pollination with unwanted individuals. This method allows for greater control over pollination and ensures the desired traits are preserved in the offspring.

Timing and Scheduling: By carefully timing the flowering periods of different plants, growers can minimize the chances of cross pollination. This can be achieved by planting crops with staggered flowering times or by manipulating environmental conditions to delay or accelerate flowering.

Removal of Male Reproductive Organs: By removing the stamens (male reproductive organs) before they release pollen, cross pollination can be avoided altogether. This technique, called emasculation, allows for controlled pollination with selected pollen.
---
Understanding the difference between self-pollination and cross-pollination and their effects allows us to appreciate the intricate relationship between plants and their pollinators. It also enables us to apply this knowledge to enhance agricultural practices, conserve biodiversity, and maintain healthy ecosystems.
---
---