Identity Crisis: The Network Behind Gender Identity Ideology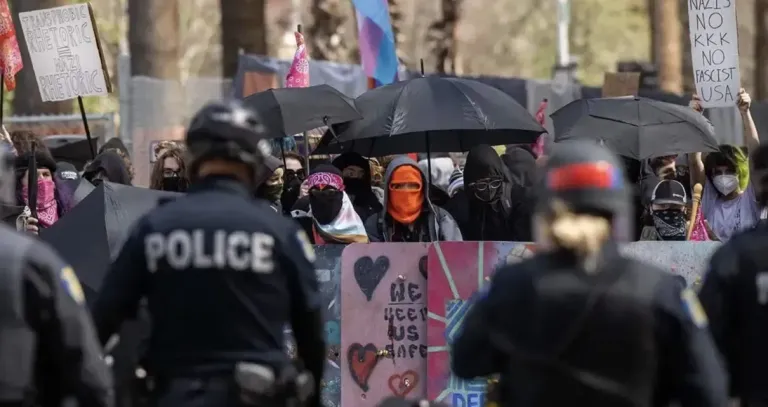 Part 4: The Network Behind Gender Identity Ideology
The Transgender Ideology
In the final sections of this series we will examine the claim made by critics who believe we are witnessing a push to divide the public using the gender identity issue, specifically by promoting a narrative that transgender people and gender identity questions are much more prevalent than they actually are.
An exhaustive list of those promoting and benefiting financially from the various industries involved in transgender health services would include everyone from endocrinologists and surgeons, pharmaceutical companies producing hormones and puberty blockers, and various non-profits and foundations. We have named a few of the players in this brief 4-part series.
Strangely enough, some of the highly educated doctors appear to have convinced themselves what they are doing is genuinely for the health of the patient. In the Swedish documentary Trans Train Doctor Olle Soder is interviewed about his work as an endocrinologist at Karolinska University Hospital. When discussing why he prescribed patients hormones and other treatments while knowing the potential consequences he said, "you must weigh the suffering the patients would go through without that treatment". He also acknowledges he was giving out hormones without follow up on the long-term effects before lamenting, "well, these people are suffering and they are asking for help."
We also have the case of Dr. Deanna Adkins, a professor at Duke University School of Medicine and the director of the Duke Center for Child and Adolescent Gender Care. Dr. Adkins provided an expert testimony to a federal district court in North Carolina concerning a state law governing access to sex-specific restrooms. In her testimony, Dr. Adkins contradicted accepted biology and revealed an ideological bent by stating, "From a medical perspective, the appropriate determinant of sex is gender identity." Dr. Adkins argued that gender identity is the preferred basis for determining the sex of an individual and "the only medically supported determinant of sex." Adkins also claimed it was "counter to medical science" to use chromosomes, hormones, internal reproductive organs, and external genitalia to override someone's chosen gender identity.
When examining the various players involved in the promotion of transgender treatments we ought to distinguish between those who are benefiting financially from providing various health interventions to adults and children, and those who are benefiting from the promotion of transgender ideology itself. I believe these groups are separate but also occasionally their paths overlap. Both are involved in normalizing these dangerous procedures but their motivations and goals appear different.
For example, a doctor diagnosing a young adult with gender dysphoria may be genuinely stating their medical opinion without a bias or ideological motivation. At the same time, you also have teachers, parents, or family friends who may be motivated by an ideology that says gender is fluid, or — a term I am hearing more recently — gender-expansive. This distinction matters because the idea that every individual involved in the gender dysphoria-to-transgender pipeline is ideologically motivated is not currently supported by the evidence.
As noted with Dr. Deanna Adkins, there are examples of individuals within the medical industry (and non-profits focused on LGBTQ healthcare) who do have ideological reasons for promoting gender transition services, but this does not account for everyone who is a part of the broader conversation. Some of these individuals may be well-meaning compassionate people who support the general message of equality, inclusion, and fairness for all people without understanding the health concerns and dangers we have uncovered in this series.
In the United States the transgender ideology is most visible within Hollywood celebrities, pop culture musicians, social media influencers, and legacy mainstream media. Again, some of these people might be more passive supporters than diehard ideologues who want to destroy the concept of gender for various political reasons. Others, especially corporations, are likely following trends because they know what is profitable and they want to appear compassionate. The top executives within those corporations may also be ideologically motivated as well.
We also have pop culture science magazines like Scientific American getting involved in blurring the lines between gender and sex. The magazine published an opinion piece written by Agustín Fuentes, professor of anthropology at Princeton University, titled "Here's Why Human Sex Is Not Binary: Ova don't make a woman, and sperm don't make a man". This piece is just one of hundreds of reports, blogs, and political essays describing themselves as news which can be found across the media landscape.
To be clear, I believe we should question and interrogate ideas surrounding gender roles. I do not subscribe to the idea that all women should be stay-at-home moms, raising the children while their husband provides financially. I also don't subscribe to the idea that there is anything inherently wrong with such an arrangement. We shouldn't be stuck in the idea that all boys should wear blue and all girls pink, but we also shouldn't punish anyone who wants to subscribe to "traditional" gender roles. The point is that while there are legitimate questions and conversations to have regarding gender and sex, the discussion has been hijacked by a well-financed, decentralized network of ideologues who want to destroy the concept of gender altogether.
The Corporate Agenda
Environmental activist and researcher Jennifer Bilek has done some of the most extensive research looking at the corporate forces behind Transgender ideology. She says she began researching the groups behind the movement after she was deplatformed in 2013. She writes:
"I have watched as all-women's safe spaces, universities, and sports opened their doors to any man who chose to identify as a woman. Whereas men who identify as transwomen are at the forefront of this project, women who identify as transmen seem silent and invisible. I was astonished that such a huge cultural change as the opening of sex-protected spaces was happening at such a meteoric pace and without consideration for women and girls' safety, deliberation, or public debate."
Bilek goes on to identify the billionaires who she sees as the major players who fund the transgender lobby and various organizations via their own philanthropic outfits and corporations. This includes Jennifer Pritzker, a male who identifies as transgender; George Soros; Martine Rothblatt, a male who identifies as transgender and transhumanist; Tim Gill, a gay man; Drummond Pike; Warren and Peter Buffett; Jon Stryker, a gay man; Mark Bonham, a gay man; and Ric Weiland, a deceased gay man whose philanthropy is LGBTQ focused.
Bilek also highlights how some donors use anonymous funding organizations such as Tides Foundation, founded and operated by Drummon Pike. This allows corporations, philanthropists, and other organizations to send huge amounts of money to Tides with instructions on where it should go. All of this is done anonymously using the Tides Foundation's "legal firewall and tax shelter" for foundations while funding political campaigns.
This influx of funds led to the first gender clinic for children opening in Boston in 2007. In the decade since that clinic opened, more than 30 clinics for children alleged to have gender dysphoria opened in the U.S. alone.
However, as noted above/before, there is a difference between those who are simply funding the advance of transgender care and those who are funding these efforts because of a support of transgender ideology. As Jennifer Bilek writes, "They are shaping the narrative about transgenderism and normalizing it within the culture using their funding methods. This can hardly be a coincidence when the very thing absolutely essential to those transitioning are pharmaceuticals and technology."
One of the culprits responsible for advancing this ideology is the Pritzker family. The Pritzkers are an American family of philanthropic billionaires with an approximate worth of $29 billion. The Pritzker family fortune comes from the Hyatt Hotels, nursing homes, and various investments in the medical industrial complex.
Leading the Pritzker family is Jennifer Pritzker, a male at birth who now identifies as transgender. Jennifer is funding transgender causes with philanthropic funding through their Tawani Foundation. Bilek describes Pritzker as "one of the largest contributors to transgender causes" who has had "enormous influence in the rapid institutionalization of transgenderism".
Organizations owned and funded by Pritzker include Squadron Capital, an acquisitions corporation, with a focus on medical technology, medical devices, and orthopedic implants, and the Tawani Foundation, a philanthropic organization with a grants focus on gender & human sexuality. Pritzker also sits on the leadership council of the Program of Human Sexuality at the University of Minnesota, where she committed more than $6.5 million since the late 2010's. Pritzker also funds the Lurie Children's Hospital in Chicago, a medical center for gender non-conforming children; the Pritzker School of Medicine at the University of Chicago; a chair of transgender studies at the University of Victoria; and the Mark S. Bonham Centre for Sexual Diversity Studies at the University of Toronto.
Pritzker and family are also involved in funding the American Civil Liberties Union and Planned Parenthood, two of the organizations most responsible for supporting transgender causes.
As Corey's Digs notes in part 3 of her 4-part series on the Transgender movement,
"One of the biggest organizations the government funds is Planned Parenthood. Coincidentally, Planned Parenthood is now the second largest provider of 'gender-affirming' hormone therapy. From 2016 to 2017, they received $543.7 million in funds from all levels of government. From 2013 to 2015 they received $1.5 billion in federal program funds. $1.2 billion was from Medicaid, and $289 million came from six separate departments within our government."
Bilek notes that Pritzker gives to universities which are "beholden" to transgender ideology and whose "students go on to spread gender ideology by writing pro-trans articles in medical journals and elsewhere". Jennifer's uncle and aunt, John and Lisa Pritzker, also gave $25 million to the University of California at San Francisco for a center of children's psychiatry.
The Pritzker family's efforts to advance transgender ideology is helped by Penny Pritzker, cousin of Jennifer, and Illinois Governor J.B. Pritzker, brother of Penny, both major sources of funding for the transgender movement. Jennifer Bilek also points to Jeanne Pritzker, who is married to J.B.'s brother Anthony, Jennifer Pritzker's cousin, and a training psychologist at UCLA where she and her husband established the Anthony and Jeanne Pritzker Family Scholarship to support medical students at UCLA's David Geffen School of Medicine.
In his role as Governor since 2019, J.B. Pritzker has rapidly advanced support for transgender policies. On June 30, 2019, Governor Pritzker issued Executive Order 19-11, titled Strengthening Our Commitment to Affirming and Inclusive Schools, to welcome and support gender dysphoric children. A task force was launched to pressure school districts to amend their school board policies "to strengthen protections for transgender, nonbinary, and gender nonconforming students." Governor Pritzker also signed a new sex education bill for all public schools in Illinois in August 2021.
In addition to funding for pharmaceutical companies such as Janssen Therapeutics, the health foundation of a Johnson and Johnson founder, Viiv, Pfizer, Abbott Laboratories, Bristol-Myers Squibb Company, and Boehringer Ingelheim Pharmaceuticals, Big Tech firms are also funding the transgender movement, including Google, Microsoft, Amazon, Intel, Dell, and IBM.
Bilek's research notes the presence of Martine Rothblatt, author of "From Trangender to Transhuman: a Manifesto on the Freedom of Form". A future installment of this investigation will fully flesh out the overlap between those with transgender ideological beliefs and those who support transhumanism, the idea that humans can evolve beyond gender and other apparent human limitations altogether by merging with digital technology.
As we wrap this investigation I want to remind readers that our goal here is not to offend, divide, or fuel hatred. I have made the effort to conduct this research and share my findings because I believe this is one of the most important conversations that needs to be had with young people who are likely to hear about transgender people and gender questions via the corporate media, public schooling, and, of course, social media.
If we can't have an honest discussion about the potential pitfalls of medical treatments and surgeries, we will not get to a place of real understanding.
I encourage everyone who has concerns on any side of this discussion to practice empathy, and compassion, and do your best not to forget the human beings involved in this complex situation. Only from that place can we build towards the truth.
---
---