Identity Crisis: Gender Identity History, Puberty Blockers, and Hormones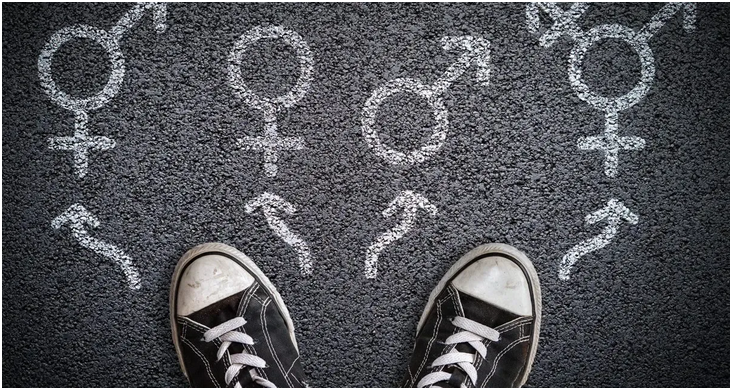 Originally Published at The Last American Vagabond
Part 1: Gender Identity History, Puberty Blockers, and Hormones
Is it possible to take a balanced, nuanced look at the complex topic of gender identity?
In this series we are going to dive deep into various aspects of the debates around transgender individuals and gender identity. Specifically, we are going to look at the concerns surrounding how these ideas are influencing children and young adults. We will look at the claims being made on all sides of this discussion and will also ask who is benefiting from the amplifying of these debates.
Derrick Broze's Journalism is a reader-supported publication. To receive new posts and support my work, consider becoming a free or paid subscriber.
In the last couple years, dozens of U.S. states have passed various laws relating to the trans community and discussions around gender identity. Some states have gone the route of attempting to ban access to knowledge in public school and even college, while others are focused on raising the age for transgender surgery to the age of 18 years old.
A 2022 Pew Research poll found that the United States is divided evenly between acceptance of the trans community. A majority of Democrats and those who lean toward the Democratic Party (59%) say that the greater acceptance of transgender people is good for society, while a majority of Republicans and Republican-leaning (54%) say it is bad for society.
Unfortunately, discussions around these topics tend to be argued in extremes. You have one side of the debate telling people it's not okay to ask questions about the potential side effects of the treatments being provided, and anyone who does so is a bigot or a trans-phobe. You also have those who are genuinely against the LGBTQ community and support efforts to limit the rights of some in that community, including by banning access to information or abolishing Pride Parades.
This is unfortunate because the reality is real human beings are caught up in the middle. Regardless of your opinion on this topic at the moment, I encourage you to read this series with an open mind, and most of all, an open heart.
TLAV's goal is not to add to the noise, but instead to look at the data, look at the human beings involved, and offer a nuanced perspective. We share this information for any individuals and family members who may be facing this challenging situation and are uncertain of what the actual facts are.
One way or another, everyone can agree that how we address this core issue of gender identity, and everything else that springs from it, has enormous implications for our society moving forward.
The Origins of Gender Identity
Dr. Michael Biggs has explored the origins of transgenderism as a modern medical concept. His research shows that the discovery of cross-sex hormones and advances in plastic surgery contributed to the concept becoming more common. Biggs also outlines how the construct of "gender identity" or "gender role" was invented by controversial researcher John Money in the late 1950's, early 1960s.
Money was born in New Zealand and emigrated to the United States in 1947 where he worked as a psychology resident in a Pittsburgh hospital before being accepted into a PhD program at Harvard University in the Department of Social Relations. He graduated in 1952 after writing a dissertation focused on hermaphroditism, the condition of having both male and female reproductive organs..
Despite popular belief, Money did not train as a medical doctor, surgeon, or psychiatrist. Nonetheless, Money's research would go on to influence much of the medical field as it relates to gender. The 2015 book, Critical Essays on John Money's Diagnostic Concepts, outlines Money's influence on the transgender conversation:
"By the mid-1960s, Money's interest had turned to transsexualism and the possibility of surgical treatment: between 1964 and 1967 he was part of a research team… whose study of transsexualism was funded by the Erickson Educational Foundation. The latter had been established in 1964 by the wealthy trans man Reed Erickson. Research undertaken by the group was integral to the official establishment of the Johns Hopkins Gender Identity Clinic (in July 1966) as well as to the formation of the Harry Benjamin Foundation (in 1967). Moreover, Money "was probably more responsible than any other individual for the decision that such an august institution as Johns Hopkins Hospital would . . . endorse sex-altering surgery in suitable subjects," a practice for which, at the time, there was little support among medical professionals."
In 1973, Money advised a doctor to prescribe testosterone to a 15-year-old girl and even to consider mastectomy. Specialist clinics for children and adolescents with gender identity problems were founded in Toronto in 1975, in Utrecht in 1987, and in London in 1989. They mainly provided counseling while Cross-sex hormones had to wait until the patient was referred to an adult clinic, at an age ranging from 16 to 18. Surgeries were not performed under the age of 18 and referrals of children were rare. The London clinic—the only specialized clinic for children with gender dysphoria in the United Kingdom—over its first decade accepted an annual average of 14 patients, while the Utrecht clinic averaged 9 per year.
Biggs' paper details how one of the first efforts to lower the age of intervention was done by the founder of the Utrecht children's clinic, Peggy Cohen-Kettenis. She had first come to prominence in "gender medicine" in the 1980's and became professor of psychology in the Department of Child and Adolescent Psychiatry at University Medical Center Utrecht. She believed that transsexuals would experience better outcomes if they started treatment before adulthood. By the mid-1990s, she was referring some patients aged 16 and 17 to the Amsterdam clinic for endocrinological intervention prior to cross-sex hormones. Males were given an antiandrogen, cyproterone acetate, which prevented erections and caused breast tissue to grow; females were given progestin to stop menstruation.
Cohen-Kettenis based her actions on evidence from the first 22 patients from the Utrecht clinic who were interviewed in their twenties, from one to five years after surgery. This group was compared to a larger group of transsexuals who had transitioned later in adulthood in previous decades. She claimed the 22 patients showed better psychological functioning and could "more easily pass in the desired gender role".
However, as Biggs notes, "one problem with the comparison is that they had transitioned in a more tolerant era". Also, the patients were still young and most had no sexual partner. They had not yet reached the age where they might regret not being able to conceive children. Additionally, Biggs states that the group has not been followed up since initial interviews.
It is through the work of people like John Money, Peggy Cohen-Kettenis, and endocrinologist Harry Benjamin (among others) that young adults and children began receiving recommendations for hormones, puberty blockers, and surgery.
Puberty Blockers and Hormones
Many of the concerns regarding the apparent rise in children pursuing these treatments relate to data showing that puberty blockers, hormones, and surgeries have the potential to cause life long health problems. For example, Lupron, one of the most widely used puberty blockers, has been associated with several negative side effects and has the potential to cause permanent changes in biology.
In interviews and in online forums, women who took the drug as young girls or witnessed their daughters take the treatment described harsh side effects that have been well-documented in adults, including infertility, chronic pain, bone thinning, and other bone issues.
Dr. Michael Biggs' September 2022 article published in the Journal of Sex and Marital Therapy outlines the history of puberty blockers and hormones, and details how little evidence exists to back up the claims that they are reversible and safe. The article, titled "The Dutch Protocol for Juvenile Transsexuals: Origins and Evidence", says the use of these drugs (Gonadotropin-Releasing Hormone agonist or GnRHa) began in the mid-1990s in the Netherlands. Since that time the so-called "Dutch Protocol" has quickly caught on and has been adopted by pediatric endocrinologists all over the world.
Dr Biggs discusses how pediatric endocrinologists have ignored concerns about the impact the drugs have on bone density and cognitive function. He also claims that almost all of the young people receiving treatment were homosexual and that doctors rushed ahead in prescribing the drugs.
According to Biggs' article, when the "Dutch protocol" was first published in an influential article in 2006, it was supported financially by Ferring Pharmaceuticals, the manufacturer of triptorelin, another common puberty blocker.
Biggs writes:
"It has been a quarter of a century since Dutch clinicians proposed puberty suppression as an intervention for "juvenile transsexuals," which became the international standard for treating gender dysphoria. This paper reviews the history of this intervention and scrutinizes the evidence adduced to support it. The intervention was justified by claims that it was reversible and that it was a tool for diagnosis, but these claims are increasingly implausible. The main evidence for the Dutch protocol came from a longitudinal study of 70 adolescents who had been subjected to puberty suppression followed by cross-sex hormones and surgery. Their outcomes shortly after surgery appeared positive, except for the one patient who died, but these findings rested on a small number of observations and incommensurable measures of gender dysphoria. A replication study conducted in Britain found no improvement. While some effects of puberty suppression have been carefully studied, such as on bone density, others have been ignored, like on sexual functioning."
Biggs also notes that, "At the Amsterdam clinic, 56 transgender adolescents were treated with GnRHa, commencing at ages ranging from 11 to 18, for an average duration of 1.7 years. After puberty suppression, a significant minority of patients have abnormally low bone density after puberty suppression."
He also notes that many people who started on GnRHa at a young age have no libido and cannot orgasm. Marci Bowers, a surgeon who has performed over 2,000 vaginoplasties, has stated that most of the cases cannot experience orgasm.
In the conclusion to the paper, Biggs demands that, "clinicians need to explain how they are sure that some of the adolescents being prescribed GnRHa would not have grown into gay or lesbian adults, with their sexuality and fertility intact."
He continues, "The claim for reversibility was contradicted from the outset by the unknown effect of puberty suppression on brain development. Irreversibility has now been demonstrated by randomized control trials in nonhuman animals. The central justification for puberty suppression was that it increases outward resemblance to the opposite sex and requires less surgical intervention. Paradoxically, however, early puberty suppression for males will most likely make subsequent genital surgery more risky—this is what killed one of the initial Dutch cohort—with worse results."
Many trans advocates claim that if children and young adults are not given access to puberty blockers they may kill themselves. However, Biggs and other researchers have found data which says the opposite. We will explore that data in the next two parts of this investigation.
Meanwhile, groups such as the American Academy of Pediatrics, the Texas Pediatric Society, the American Psychological Association and the American Medical Association have endorsed gender-affirming care practices and called measures seeking to restrict access as harmful to transgender youth.
Stay tuned for part 2 of this series tomorrow.
---
---