Personal Computing (September 1982)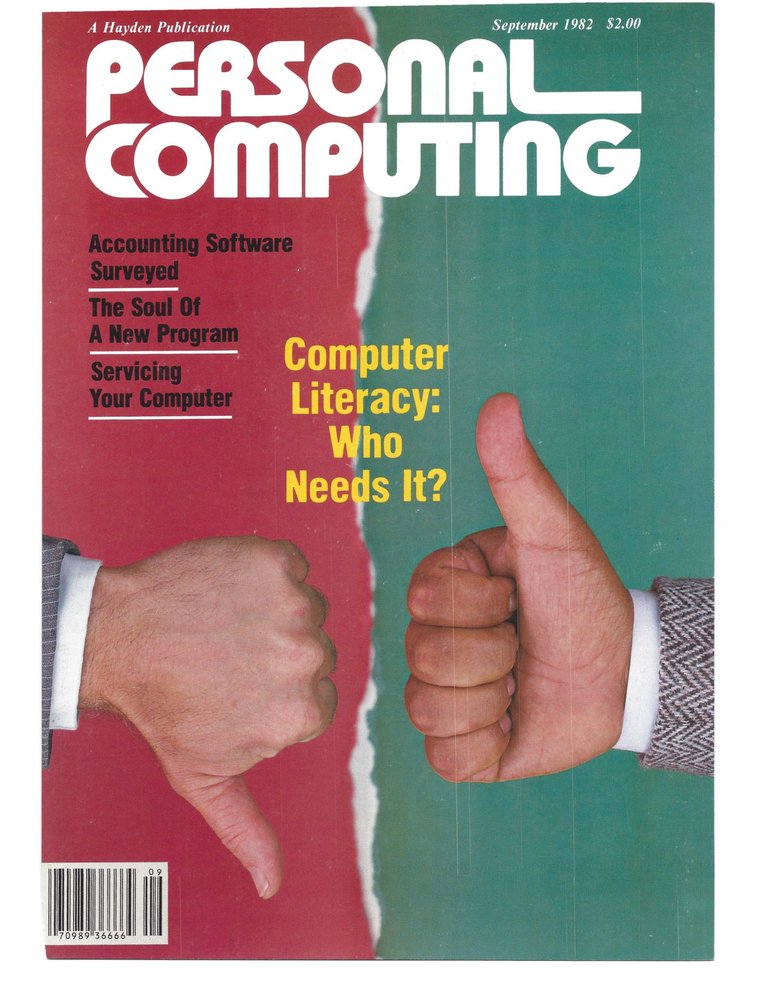 Cover of the September 1982 issue of Personal Computing
Personal Computing was a long lived computer magazine published in the U.S. from the late 1970s until 1990 or so. Though by the end of its run it was covering mostly the PC, it covered various computer platforms in its earlier days. The September 1982 issue includes: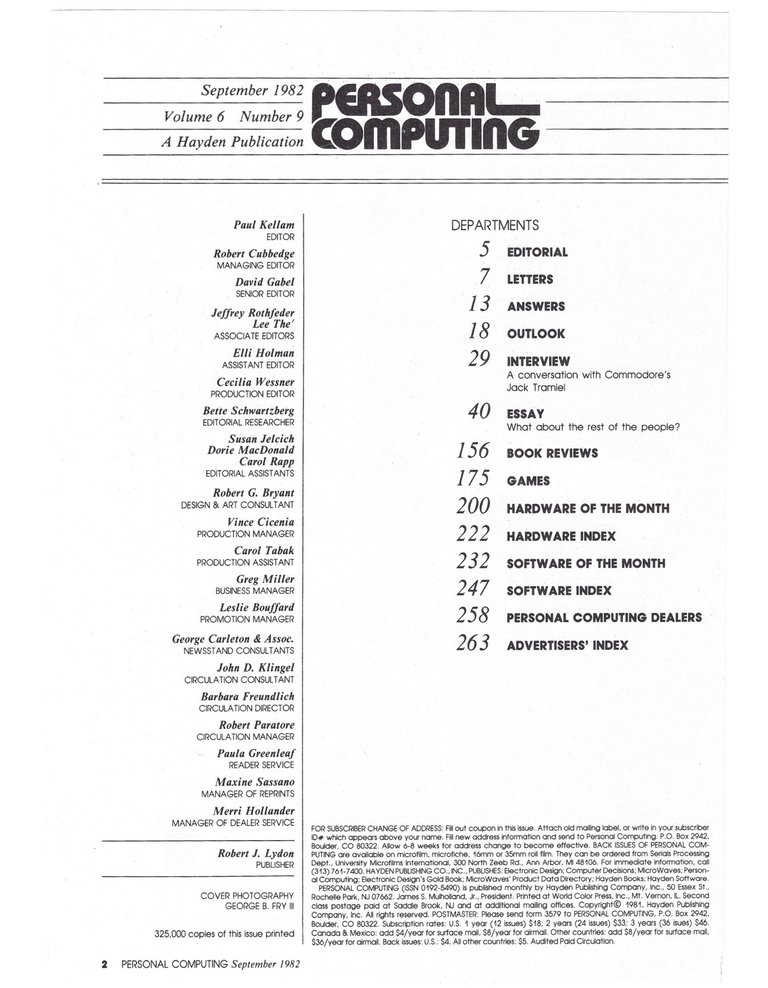 Table of Contents from the September 1982 issue of Personal Computing
Departments
Editorial - Computer literacy and getting more out of Personal Computing.


Letters - Letters from readers about electronic mail, choosing a word processor, buying a printer, the need for two disk drives, and more.


Answers - Questions answered about compatible home and office computers, microdisks (the then new 3.5" disk format), portable computers, using electric typewriters as an interface.


Outlook - Purchasing software may qualify you for tax deductions; Club Med features computer workshop with Atari computers; universities use computers to help students with math; and more.


Interview - An interview with Jack Tramiel, chairman of Commodore Business Machines. He would later leave Commodore and move on to Atari.



Hardware of the Month - A look at new hardware including several new computers. The first is the portable Hyperion which is priced in the $4500 range, is compatible with the IBM PC, and features an 8088 processor, 256K RAM, and one or two floppy drives. The second is the NEC Model 200 which features various floppy/hard drive combinations starting at $4500. Also included here is a new Winchester hard drive from ATASI, a high resolution color 13" monitor, and more.


Software of the Month - New software including The Organizer (a personal information manager), Graphics Processing System, Kryptyk (encryption software), Oasis-16 (an operating system for the IBM PC), Easy Planner (spreadsheet), The Terminal Program from Hayes, and more.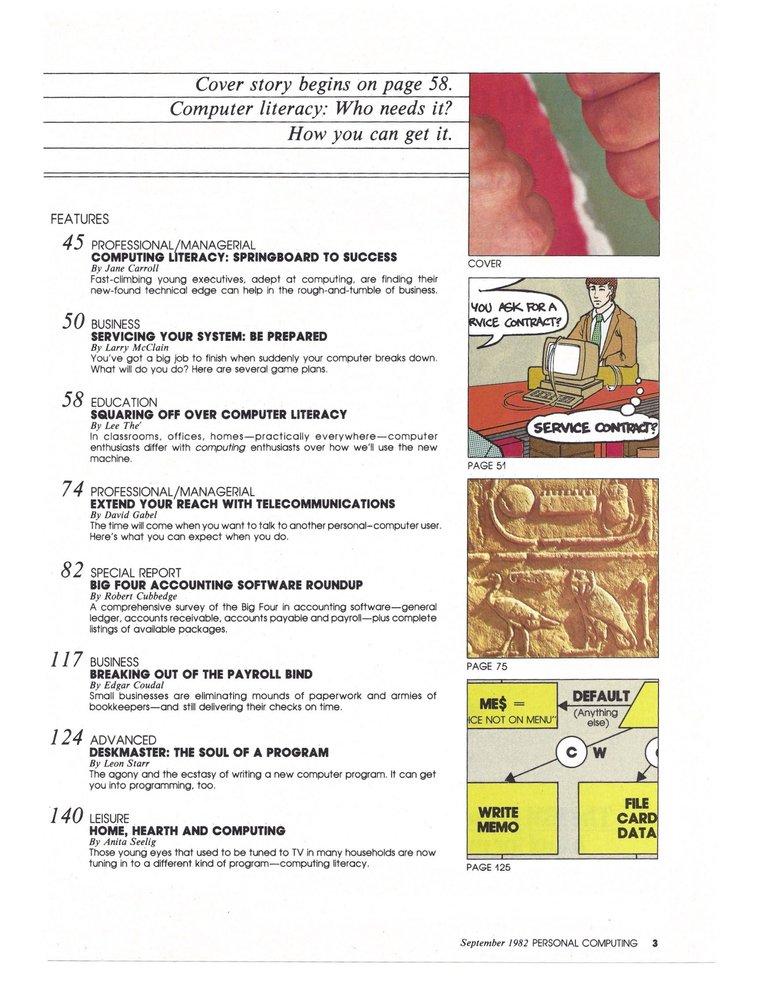 Table of Contents from the September 1982 issue of Personal Computing (continued)
Features
Computing Literacy: Springboard to Success - Computer literacy is becoming important to up and coming executives.


Servicing Your System: Be Prepared - A proper service agreement can make the difference between a good system and a great system.


Squaring Off Over Computer Literacy - The best way to bring computer literacy to non-users.


Extend Your Reach with Telecommunications - Communicating with other computers with a modem. Something made practical only after Ma Bell lost their monopoly on telecommunications hardware used on their phone lines.


Big Four Accounting Software Roundup - A massive overview of the accounting software currently available in the categories of general ledger, accounts receivable, accounts payable, and payroll.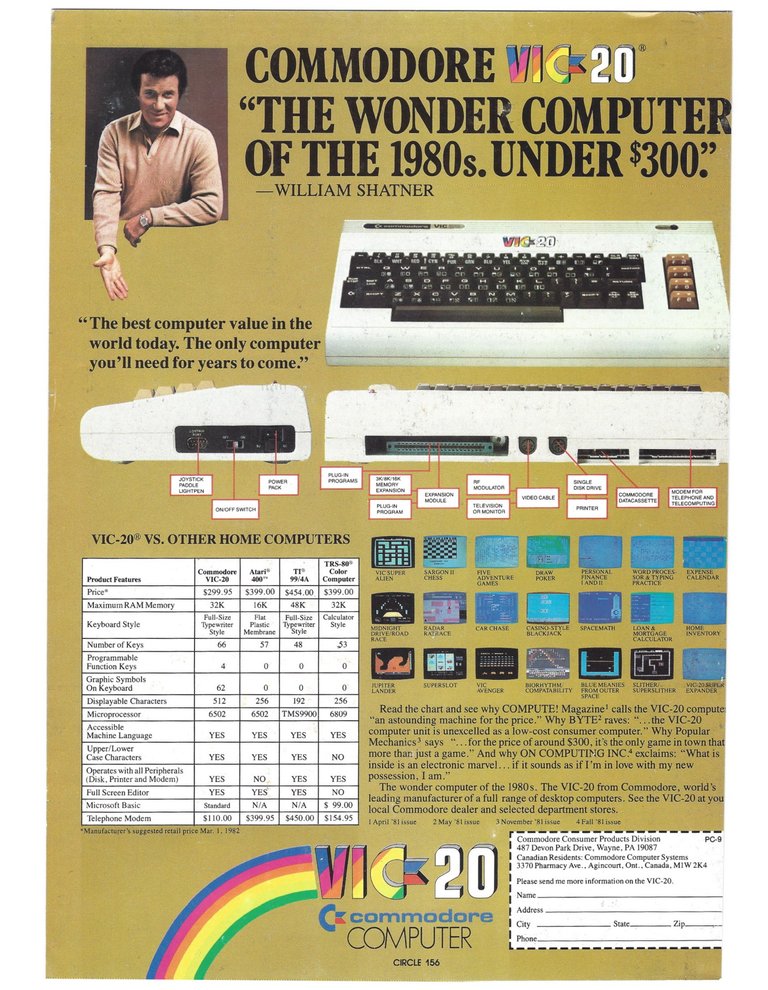 Back cover of the September 1982 issue of Personal Computing
Read more: https://www.megalextoria.com/wordpress/index.php/2023/09/02/personal-computing-september-1982/
---

Check out my other Social Media haunts (though most content is links to stuff I posted on Hive or reposts of stuff originally posted on Hive):

Wordpress: https://www.megalextoria.com/wordpress
Tumblr: https://www.tumblr.com/blog/darth-azrael
Twitter: https://twitter.com/Darth_Azrael
Blogger: https://megalextoria.blogspot.com/
Odyssee: https://odysee.com/@Megalextoria:b
Rumble: https://rumble.com/c/c-2385054
Daily Motion: https://www.dailymotion.com/Megalextoria
---
Books I am reading or have recently read:
The Lies of Locke Lamora by Scott Lynch
The Kingdom of Bones by James Rollins
Republic of Thieves by Scott Lynch
---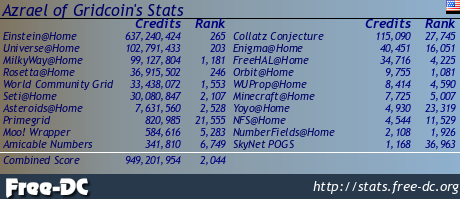 ---
---
---