PC World (January 2003)

Cover of the January 2003 issue of PC World
I think that PC World was probably the most popular PC magazine during most of its life. In 2003, things were moving fast in the PC world. Broadband use was growing rapidly as was processing power and practically uses for the PC (e.g. digital cameras, still and video). The contents of the January 2003 issue includes:
Cover Story
What's Hot for 2003 - A look at what is expected in 2003. Digital cameras will become smaller while including more megapixels, faster wifi, a new 64-bit CPU from AMD (Clawhammer), improved LCD monitors, movies for PDAs and cell phones, home media servers, improved 3D graphics cards, Doom 3, and more.


Features
Image Makers - A look at 16 new photo-capable printers. PC World ranks the best photo printer as the Epson Stylus Photo 2200 while the best general purpose ink jet printer is the Canon 1320 Color Bubble Jet Printer.


Faster for Free - How to tune up Windows XP to make your PC faster. Plus a look at various monitoring and diagnostic software.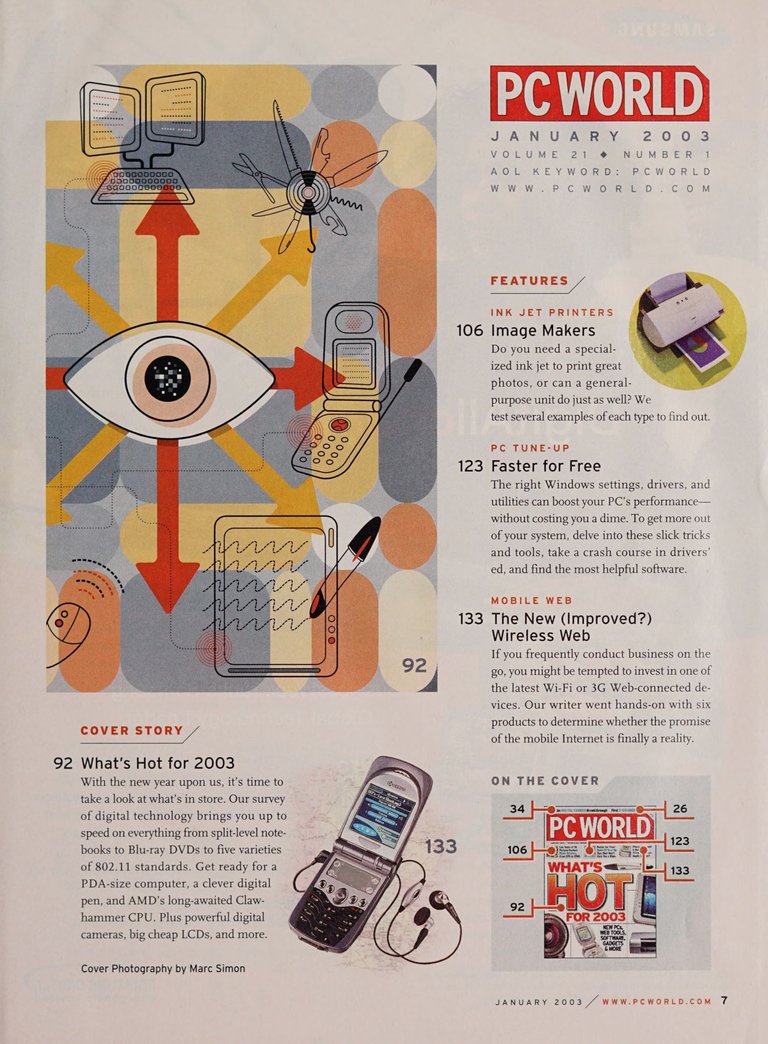 Table of Contents from the January 2003 issue of PC World
Top 100
Mobile P4 Speeds Up - Intel releases a new 2.2 GHz Mobile Pentium 4 CPU.


Top 15 Desktop PCs - The Dell Dimension 8250 featuring a 2.8GHz Pentium 4, 128MB ATI Radeon 9700 Pro, and 512MB of PC1066 RDRAM takes the top Power System spot with the Gateway 700X featuring a 2.53GHz Pentium 4, 1 GB of PC800 RDRAM and 128MB GeForce Ti 4600 coming in second. The top value PC is the Micro Express MicroFlex 2100A with a 1.6-GHz Athlon XP 1900+, 64MB GeForce MX 460 and 256MB DDR333 SDRAM.


Top 15 Notebook PCs - The top Power Notebook this month is the IBM ThinkPad T30 featuring a 1.8-GHz Pentium 4-M with 256MB of RAM. The top Value Notebook is the Dell Inspiron 4150 featuring a 1.8-GHz Pentium 4-M with 256MB of RAM.


Top 10 Monitors - CRTs were still king with the top 19-inch monitor being the Samsun SyncMaster 957mb.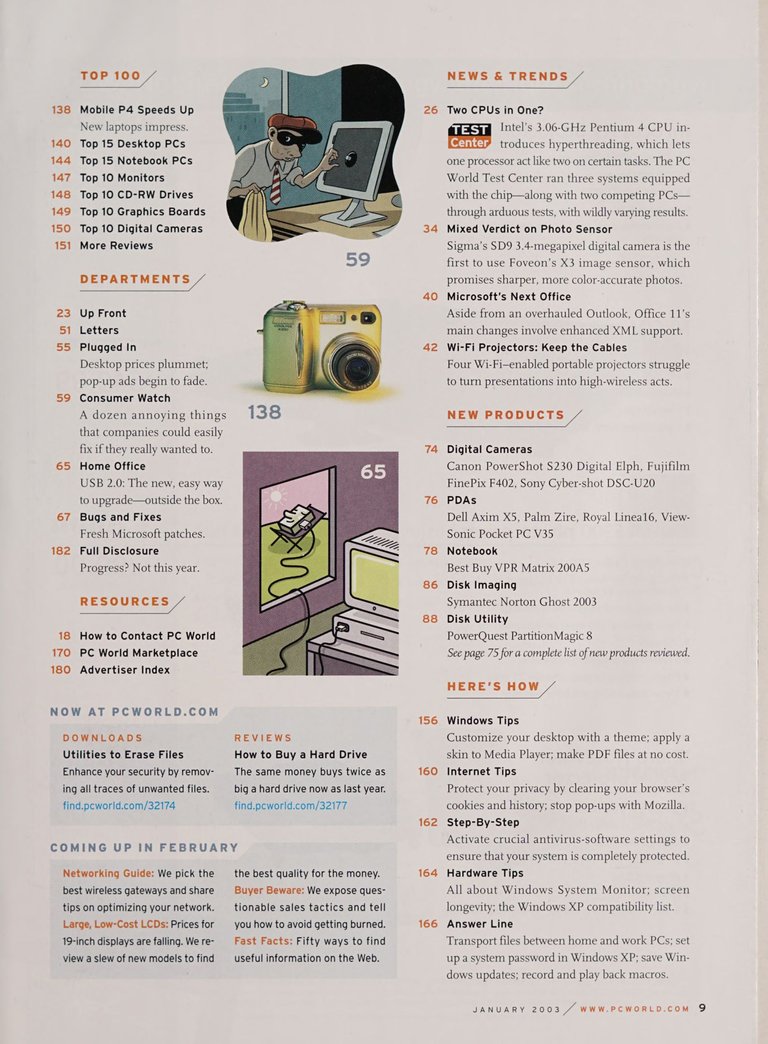 Table of Contents from the January 2003 issue of PC World (continued)
Departments
Up Front - Choosing the right moment to throw out old (but proven) tech for the latest and greatest.


Letters - Letters from readers about copy-protection hardware, free ebooks, secure internet transactions, and more.


Plugged In - PC prices plummet; software makers move to smaller boxes; T-Mobile's Sidekick released; and more.


News & Trends
Two CPUs in One? - Intel's latest Pentium 4 CPU reaches 3 GHz and offers a second virtual CPU via hyperthreading. Compared here are several hyperthreaded P4 machines along with benchmarks.


Mixed Verdict on Photo Sensor - A look at Sigma's SD9 SLR digital camera, the first to use the Foveon X3 image sensor.


Microsoft's Next Office - A look at the upcoming version of Microsoft Office (Office 11).


New Products
Digital Cameras - New digital cameras are smaller and pack more power. A look at several models including the Canon PowerShot S230 Digital Elph, FujiFilm FinePix F402, and Sony Cyber-shot DSC-U20.


PDAs - The smartphone would eventually take over from the PDA but not in 2003. A look at several modesl including the Dell Axim X5 (I had this one!), Palm Zire, Royal Linea 16, and ViewSonic Pocket PC V35.


Notebook - A look at the VPR Matrix 200A5 featuring a 2-GHz Pentium 4-M, 512MB DDR SDRAM, and NVidia GeForce4 420 Go for $2400.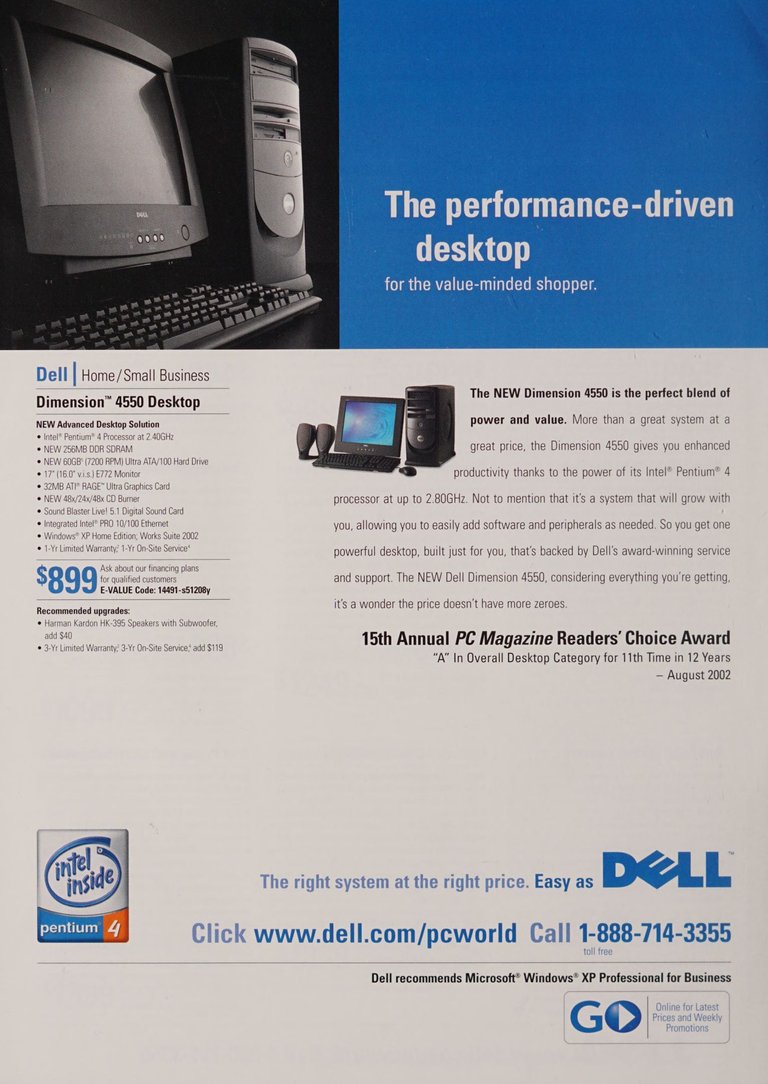 Back cover of the January 2003 issue of PC World
Read more: https://www.megalextoria.com/wordpress/index.php/2023/09/13/pc-world-january-2003/
---

Check out my other Social Media haunts (though most content is links to stuff I posted on Hive or reposts of stuff originally posted on Hive):

Wordpress: https://www.megalextoria.com/wordpress
Tumblr: https://www.tumblr.com/blog/darth-azrael
Twitter: https://twitter.com/Darth_Azrael
Blogger: https://megalextoria.blogspot.com/
Odyssee: https://odysee.com/@Megalextoria:b
Rumble: https://rumble.com/c/c-2385054
Daily Motion: https://www.dailymotion.com/Megalextoria
---
Books I am reading or have recently read:
The Lies of Locke Lamora by Scott Lynch
The Kingdom of Bones by James Rollins
Republic of Thieves by Scott Lynch
---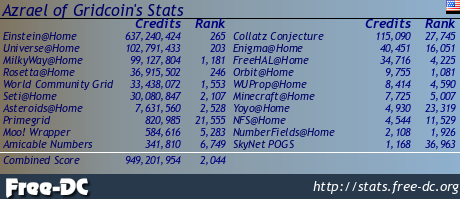 ---
---