PC World (December 1992)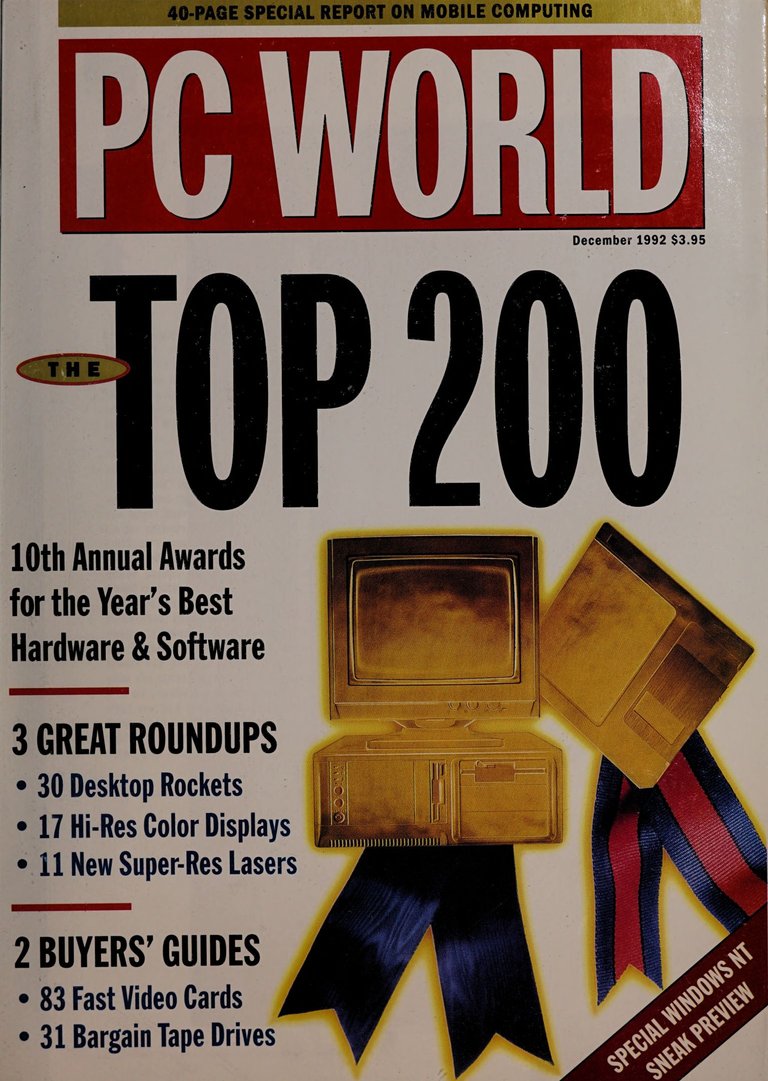 Cover of the December 1992 issue of PC World
PC World was probably the most popular PC magazine in the late 1980s and early 1990s and maybe longer than that (it was certainly around longer). This issue from December 1992 was from about 7 months or so before I bought my first PC (not counting my Commodore 64). It includes:
Cover Story
The Readers' Choice: World Class 1992 - Readers pick the best hardware and software of 1992. Some of the winners in the hardware category include the ATI Graphics Ultra video card, the Seagate ST3144A hard drive, the Bernoulli Transportable 90 Pro external drive from Iomega, the Jumbo 250 tape drive from Colorado Memory Systems, the ScanMan 256 handheld scanner from Logitech, and the Microsoft Mouse. Gateway 2000 was voted as the vendor with the best service and support, followed by Dell, Zeos, IBM, and Hewlett-Packard. Winners in the software category include WordPerfect, Excel, Windows 3.x, Norton Utilities, Paradox, ProComm Plus (I loved this terminal software), PageMaker, CorelDraw (another favorite of mine), Quicken, and more.


Windows
Windows NT: A DOS for the '90s - A detailed look at the upcoming new operating system from Microsoft, Windows NT.


Systems
486SX-25s vs. 386DX-40s: The Upstart Fights Back - While Intel had moved on to the 486, AMD was still pushing the 386 to faster speeds with the 386DX-40 (I had a roommate in college with one). More than 50% of new sales were 486 systems by this point but the 386 was still thought to be a good budget choice at the time. In reality, it would be woefully out of date within a year or two. In this overview, it shows that the budget 486 processor (486SX-25) is faster than the 386DX-40 though doesn't have as good of a price/performance ratio. However, the 486 systems were also more easily upgradeable. The best performer in their lineup was the Boss 486SX/25 Cache. The best value was the Compudyne 486SX/25 with the Blackship BLK 386/40 taking second.


The Complete Guide to the New CPUs - A look at the latest 386 and 486 processors. Also, benchmark comparisons of 24 processors. From fastest to slowest: 486DX2-66, OverDrive-33/66, 486DX-50, OverDrive-25/50, 486DX-33, OverDrive-20/40, 486DX-25, Cyrix 486DLC-33, AMD 386DXL-40 (with math coprocessor), IBM 486SLC2-20/40, Cyrix 486DLC-33 (with math coprocessor), 486SX-25, 386DX-33 (with math coprocessor), AMD 386-40, 386DX-33, 486SX-20, Cyrix 486SLC-25, 386DX-25 (with math coprocessor), 386SL-25, 386DX-25, AMd 386SXL-25, 386SX-20, 386SX-20.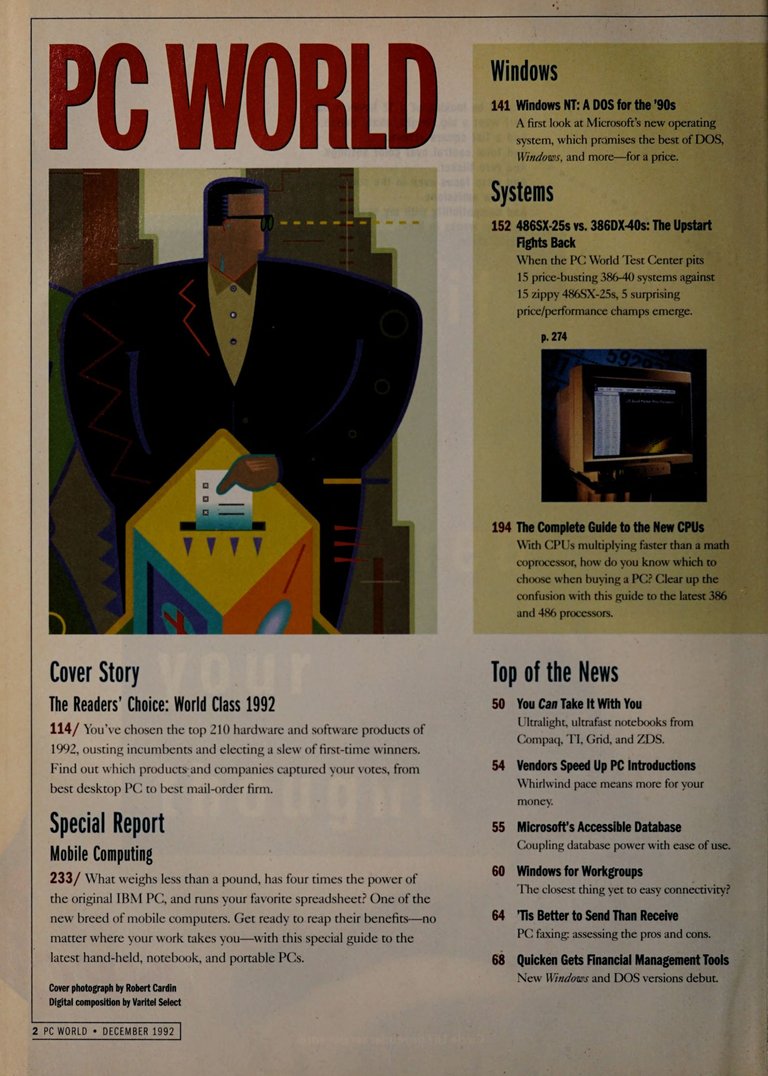 Table of Contents from the December 1992 issue of PC World
Top of the News
You Can Take It With You - A look at a bunch of recently released laptops, including the Compaq LTE 4/25c and Lite/25E (with 25-Mhz 486SL CPU); TravelMate 4000 WinDX2/50, WinDX2/40 Color, and WinSX/25; Grid Convertible (386SL-25 based); and Z-Lite 320L (386SL based).


Vendors Speed Up PC Introductions - Vendors are introducing new PCs at an increasingly rapid pace. PC tech started rapidly advancing starting in the late 486/early Pentium era. Within two years or so there were cheaper PCs available that were at least 400% faster than the 486-DX2/66 I got in 1993.


Microsoft's Accessible Database - Microsoft releases the easy to use Access database software.


Windows for Workgroups - The latest version of Windows, Windows for Workgroups 3.1 made networking easier.


Printers
Next Generation Lasers - Reviews of the latest laser printers, including the Compaq Pagemarq 15, Compaq Pagemarq 20 (best buy), Helett-Packard LaserJet 4 (best buy), Hewlett-Packard LaserJet 4M, IBM LaserPrinter 10P/Lexmark, Kyocera Ecosys a-SI, NewGen Systems TurboPS/660, Okidata OL810, and Xanite Accel-a-Writer 8000.


Video
Best Monitors for $1000 - Reviews of the latest "big-screen" monitors (we are talking 15 to 17-inch CRT based monitors) for prices ranging from $700 to nearly $1500. Models reviewed include the Amdek AM/815, Amdek AM/817, Compaq QVision 150, Dell 15LR, HP Ultra VGA 17-Inch Display, IOcomm ThinkSync 5, IOcomm ThinkSync 7A, Mag MX15F, Mag MX17F (best buy), NEC MultiSync 4FG (best buy), Rellsys RE1558, Samsung SyncMaster 5c, Sony CPD-1604S, Taxan MultiVision 550, TVM MediaScan 5A+LR (best buy), TVM MediaScan 6A Digital (best buy), and ViewSonic 7.


Fast Video for Less - A huge round-up of 95 graphic accelerator boards. These were designed to speed up displays in Windows more so than games.


Backup
Tape Backups You Set and Forget - A look at the latest "high-capacity" tape drives (typically with 120MB capacity and up to 250MB compressed capacity). Tape drives were a pretty common accessory from about this time through the early Pentium era. After that, they sort of faded away in favor of other options (Zip drives, etc.).


New Products
Toshiba Satellite Notebooks - Toshiba launches three "low cost" 386SX Notebooks. The T1800 featuring a 20-MHz 386SX, 2MB of RAM and a 60MB hard drive for $1800, the T1850 with 25-MHz 386SX, 4MB of RAM and an 80MB hard drive for $2200, and the T1850C which is the same as the T1850 except with a color screen for $3300.






HP DeskJet 550C, DeskJet Portable Printers - The new DeskJet 550C inkjet printer for $1099 and the new HP DeskJet Portable for $599.


Tecmar QICVault tape drives - SCSI based tape drives with 720MB capacity for prices ranging from $1139 to $1889.


SyDOS Marlin, Puma hard drives - A look at the new SyDOS 3.5" drive with removable media.


PerForm Pro Plus - Software for creating forms.


Superbase 2 - A relational database for Windows. I believe there was actually a Commodore 64 version of the original Superbase.


Fontographer 3.5 for Windows - Create and modify fonts.


Publish It 3.0, Publish It for Windows - Desktop publishing packages for DOS and Windows.


Golden Retriever 2.0 - A file manager for Windows.


Dynamics accounting software - A high end accounting package for Windows from Great Plains Software.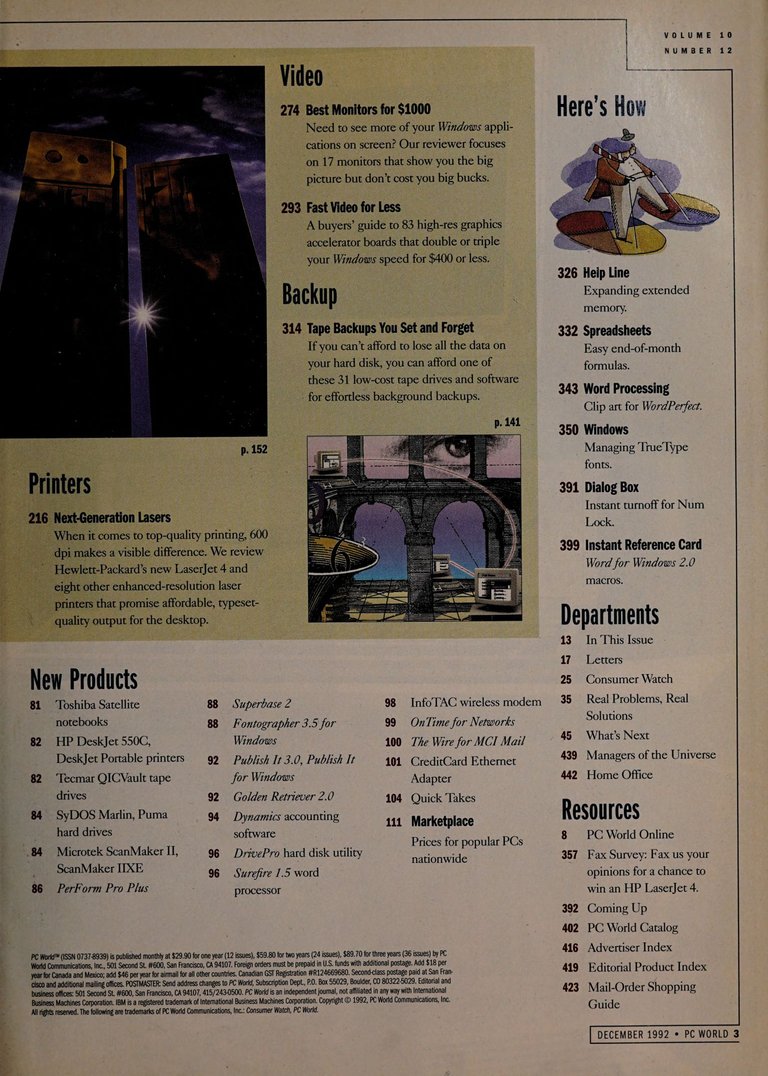 Table of Contents from the December 1992 issue of PC World (continued)
Here's How
Help Line - Questions answered about Stacker disk compression software, turning extended memory into expanded memory, printing screen graphics, OS/2, and more.


Spreadsheets - Questions answered about displaying negative percentages in parenthesis in 1-2-3, calculating the last day of the previous month in Excel 4.0, hiding columns in Excel 4.0, and more.


Word Processing - Questions answered about using clip art in WordPerfect 5.1, gridlines in Word for Windows 2.0, creating text with background shading in WordPerfect 5.1, and more.


Departments
Letters - Letters from readers about fraudulent ads in magazines, Hewlett-Packard's NewWave, CAD software, and more.


Real Problems, Real Solutions - Overcoming the feat of computers.


What's Next - A look at navigation software which at the time amounted to map software for your PC, some with subscriptions for updates.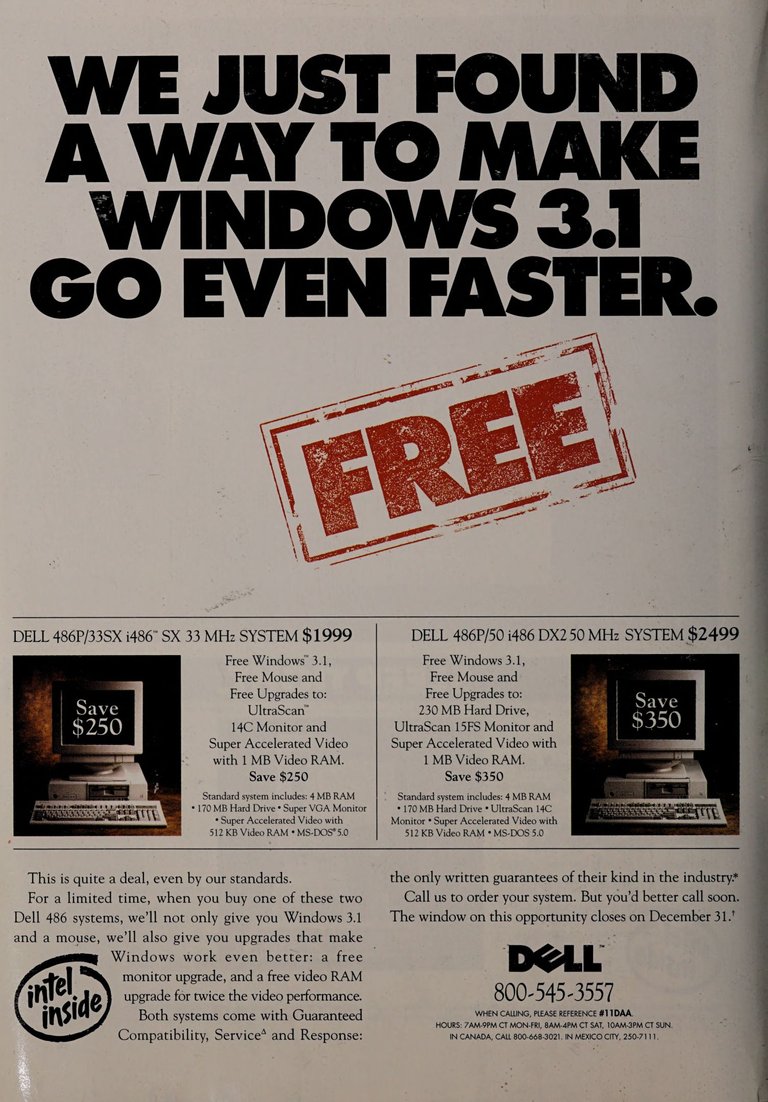 Back cover of the December 1992 issue of PC World
Read more: https://www.megalextoria.com/wordpress/index.php/2023/09/06/pc-world-december-1992/
---

Check out my other Social Media haunts (though most content is links to stuff I posted on Hive or reposts of stuff originally posted on Hive):

Wordpress: https://www.megalextoria.com/wordpress
Tumblr: https://www.tumblr.com/blog/darth-azrael
Twitter: https://twitter.com/Darth_Azrael
Blogger: https://megalextoria.blogspot.com/
Odyssee: https://odysee.com/@Megalextoria:b
Rumble: https://rumble.com/c/c-2385054
Daily Motion: https://www.dailymotion.com/Megalextoria
---
Books I am reading or have recently read:
The Lies of Locke Lamora by Scott Lynch
The Kingdom of Bones by James Rollins
Republic of Thieves by Scott Lynch
---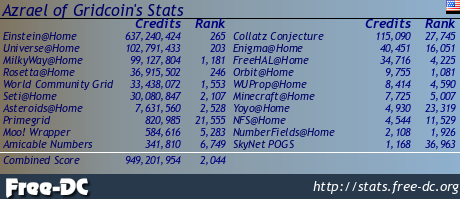 ---
---
---