How I Use AI to Improve My Content Writing Without Generating Articles?
AI-generated articles, while helpful, lack something we have in the articles we write as humans. I call it the writer's Soul. Every one of us has a style unique to them, after all.
There's something intriguing in the imperfections of our written content. AI tools (such as ChatGPT) are yet to reliably replicate such imperfections well.
I don't care about that most of the time, though.
When I look for information online, I don't care if the article I'm reading is written by a human or a machine as long as it fulfills the needs I sought it for. I assume most people wouldn't care as long as the content provider is transparent about it. You know who would care, though? Search Engines.
The quirks of AI-generated content lead many articles to have a predictable format or outright plagiarized segments. It's no wonder that any respectable website will frown upon AI-generated articles. Even if you disregard the ethical implications of generating content from data you don't own. Plagiarized content ranks lower on search engines compared to original content of the same quality.
How I Use ChatGPT To Improve My Writing?
All I said above makes me avoid AI-generated articles in my blogging journey. Yet, I'm a believer that AI is a tool that can help us achieve good things. That's why I always have a Tab with ChatGPT open in my browser, even though I don't generate complete articles using AI tools.
I use ChatGPT at various stages in my writing, though I usually only use it in one of these stages per article. I use it to:
Brainstorm.
Discuss viewpoints that I could add to my article.
Improve my SEO, and whatever else I think of that I could use to improve my writing.
Below I'll talk about my experience using ChatGPT at different stages of my article writing.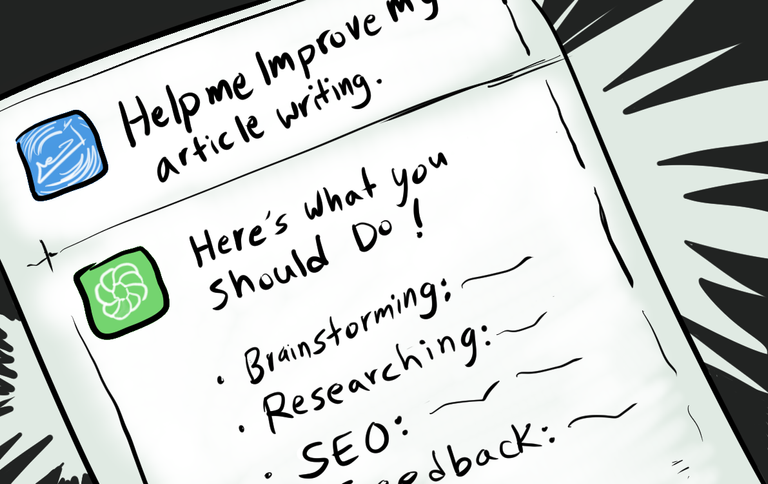 Using ChatGPT for Brainstorming
I usually have an idea for the main theme of each article I write. That's why I rarely use ChatGPT to generate ideas for new articles. Most of my articles are personal with a big emphasis on the First Person, so I usually have something to start with.
What I ask for help with is brainstorming. In this stage, I want to learn as much as possible about the topic I want to write about. I ask questions to make sure I can write about different aspects. I ask for possible ideas to make the article more detailed. Or ask it to simplify something I have trouble understanding.
Be careful though. I noticed that ChatGPT gives me false information sometimes, so be sure to Fact-check any information you aren't sure of. Asking the AI for Sources helps me sometimes, especially if it wasn't able to find the source of some false information it provided me.
Using ChatGPT as an Editor
Another use-case is having ChatGPT be my editor while writing the article, and after finishing my first draft. I ask AI to tell me about areas I missed or viewpoints that I could incorporate in the article.
When I need to look at a segment of my article from various viewpoints. I copy it and ask ChatGPT to view it from different angles. One way I do that is to prompt it to generate a few types of readers interested in the topic and simulate their opinions on the article. This one in particular gives fun-to-read results. (Example.)
I usually copy my whole article for this. After that, I would ask the AI about the article, and tell me as an expert in the topic's field what if I missed anything I should mention. Or ask it to be my assistant and co-write the article with me, though I don't do this often to avoid Plagiarism.
Another idea is to ask the AI to provide me with some resources I could link to. (Admittedly, many of the links I got this way don't exist.)
I usually speak with the AI like I message a human, I only use machine-like prompting when I really need the most accurate responses I can find. How do you talk with AI?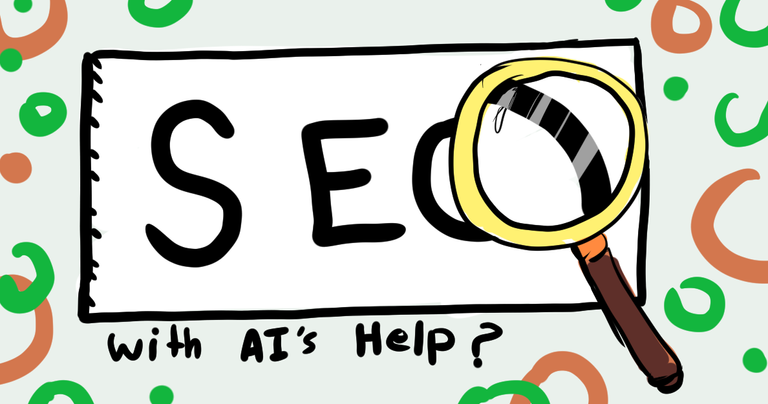 Improving SEO with ChatGPT
While I don't make SEO an essential part of my article writing considering the platforms I write for. I like to ask ChatGPT about improving my articles' SEO after finishing writing them. Despite having done it a few times already and learning so much during it, I always get new suggestions I never thought of.
I'm very particular about my writing, so sometimes I sacrifice SEO-friendliness and grammatical accuracy to keep my voice unique. In my opinion, it doesn't matter whether the article was found by Search Engines if it lacked a Soul.
Some of the SEO tips I got are to add paragraphs to the article to increase length. Use certain keywords more, (or less.) ChatGPT can also generate Meta Description for the article, though when I did those for my website, I edit them to my liking.
Titles are another big thing. I told ChatGPT to give me 10 SEO-friendly titles for my article. I choose what I like the most between them, or use them as a reference for a title I create.
If you want to improve your SEO with AI, you could always ask ChatGPT what it could do for you?
Making Content Appealing
I like asking ChatGPT to use rich text that's appealing to read. I ask it to make use of Headings and bold text for visual clarity. One of the prompts I love using with ChatGPT is "Let your response be in bullet points format." I recently started asking it to make use of Emojis whenever appropriate too. My artist background makes me love visual variety, even in articles.
Even though I mentioned many methods I use to improve my article. I throw out most of the AI responses away, or at least modify them. Being original is one of the things I find pride in myself about after all, and most of my conversations with AI are aimed at getting my creative juices going, (or are the result of my procrastination.) Learning how to improve is more important than getting a better article. Don't you think?
There are other ideas I haven't mentioned. Using AI to rephrase or correct part of your article. Describing a meaning and then asking AI what words in English (or another language) fit the meaning in question. I'm sure there are other ways to use AI for article writing that I haven't stumbled upon. If you have any, tell me about it!
I hope this helps!
+O ~ Thanks for Reading ~ O+
If you enjoy this article you might enjoy Learning with me: Content Marketing In addition to to articles like these about Content Writing, I also write fiction stories, you'll find my stories in this post: "Where to Start?" article
---
* This article was first published on CoinPayU Articles. Reposting on HIVE for archiving.
* Images in this post are made using Clip Studio Paint.
* 8% of this post's rewards is divided on @ackza, @masterlamps & @eturnerx as members of my Beneficiary Rotating List
---
---